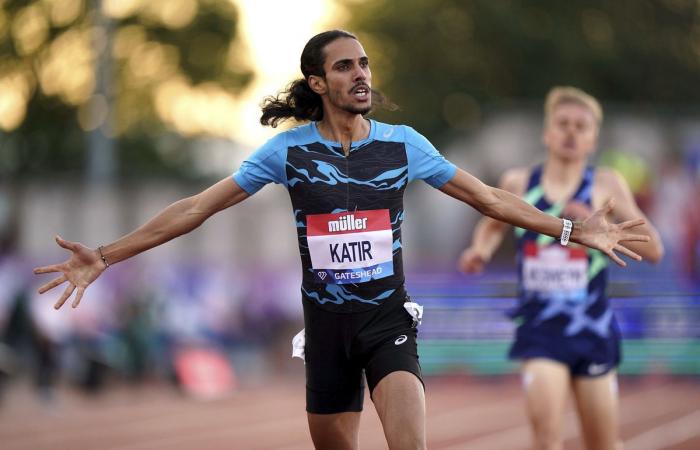 Mohamed Katir took his second Gateshead win of the season in the men's 3000m to set a meeting and Spanish record with 7:27.65. Stewart McSweyn from Australia also broke the 7:30 with 7:28.94. Andrew Butchart from Great Britain finished third setting a Scottish record with 7:35.18 ahead of Jacob Krop (7:35.64) and Matthew Ramsden (7:35.65). Yeman Crippa improved his own Italian record with 7:37.80.
Mohamed Katir: "I had a dream to be part of the Olympic Games. I have worked very hard to achieve this goal and this performance is the consequence of working hard and training in the mountains. The first time in Gateshead gave me a lot of confidence and positive energy. I will respect all the other athletes that are much better than I am. I will fight as much as I can to make the podium".
Women's 400m hurdles:
European 400m indoor champion Femke Bol claimed her fourth win this year in the Diamond League with a comfortable win with 63.25 in the women's 400m hurdles.
Men's 100 metres:
This year's 100m US Trials champion Trayvon Bromell clinched his first-ever Diamond League win in the men's 100m in 9.98 beating British sprinter Chijndi Ujah (10.10). Reigning European champion Zharnel Hughes took third place with 10.13 sharing the same time as André De Grasse and Fred Kerley.
Trayvon Bromell: "I will take that win and I really want to get back into training, get my boy into wraps, recover and get ready for Tokyo. I want to be healthy and I am blessed for that. I respect everybody in the competition as they all put in the work and I just focus on my lane the end of the day. I just hope I am making everybody proud and not just in chasing medals but in the sense of teaching people to keep fighting when things are tough".
Women's pole vault:
Sandi Morris cleared 4.76m in the first attempt to win the women's pole vault. British record-holder Holly Bradshaw vaulted 4.71m at the second time of asking. Neither Morris nor Bradshaw could clear 4.81m. Wilma Murto from Finland took third place with 4.61m.
Sandi Morris: "I jumped on my poles today. It's the struggle of every international pole vaulter. It's just so hard to get around the world and it's getting significantly more difficult each year but I am very fortunate that they finally made it today and the weather held out. The sun came out and it ended up being a beautiful day. I have had a really tough time last month. I had a couple of bad meets and my confidence was lacking a bit. I decided that I had no expectations and just have fun and anytime I jump for fun I always jump high. It's amazing how you can have five bad meets and one good meet and your world flips back to normal".
Men's 110 metres hurdles:
Jamaican Trials winner Ronald Levy edged out 2016 Olympic champion Omar McLeod in 13.22. McLeod finished second with 13.42 ahead of world indoor champion Andy Pozzi (13.45)
Women's 100 metres hurdles:
European Indoor silver medallist Cindy Sember delighted the home crowd with her second win on the Gateshead track this season with 12.69 in the women's 100m hurdles.
Men's triple jump:
This year's European Indoor champion Pedro Pablo Pichardo took the lead in the first round with 17.29m and passed the next four rounds. Italian outdoor and indoor champion Tobia Bocchi jumped over 17 metres for the second time in his career with 17.04m in the first round. Portugal's Tiago Pereira took second place with 17.11m. Pichardo bounded out to 17.50m to win the Final 3. Bocchi finished second with 16.60m to beat Pereira (16.46m).
Men's javelin throw:
Former olympic champion Keshorn Walcott took the lead with 82.81m in the third round. German throwers Johannes Vetter and Julian Weber qualified for the final 3 with 81.96m and 81.07m.
Johannes Vetter saved the best until the last round by throwing 85.25m to take the win in the final 3.
Johannes Vetter: "It was a really difficult competition and I am really disappointed as the conditions were not good at all. The surface was very slippery. I was throwing the first five throws about six or seven metres before the line. I am back in Germany before Tokyo and I want to throw 90m again. The world record is possible in Tokyo. You can't plan through and if it happens it happens"
Women's 200 metres:
Double Olympic champion Elaine Thompson Herah won the women's 200m in 22.43 ahead of the former world under 20 champion Jodie Williams (22.60) and Blessing Okagbare (22.61).
Women's 400 metres:
Former Diamond League champion Stephanie Ann McPherson cruised to victory in the women's 400m in 50.44.
Men's 800 metres:
Isaiah Harris held off Wycliffe Kinyamal to claim his first win of his career in the Diamond League in 1:44.76
Men's Emsley Carr Mile:
Elliot Giles took a very narrow win in the Emsley Carr Mile in 3:52.49 holding off Jake Heyward by one-hundredth of a second.
Women's Mile:
Kate Grace clocked 4:27.20 in the women's mile to claim her second win of the season after her victory in the 800m in Oslo.
Kate Grace: "I always appreciate being able to perform with the best athletes in the world and I felt great. It makes me want to run the mile and the 1500m later on in the season. It's been wonderful to race four times in the past few weeks and right now I am looking forward to the Diamond League final".
Women's long jump:
Malaika Mihambo moved into one of the top 3 with the fourth round of 6.62m. European Indoor champion Maryna Beck Romanchuk produced the best jump of the day with 6.77m in the fifth round. Mihambo opened the Final 3 with 6.65m. Fatima Diame from Spain, who jumped 6.67m in the second round, leapt to 6.46m. Beck Romanchuk took victory by just two cm with 6.67m.
Men's high jump:
Former world champion Donald Thomas cleared 2.25m to claim the win in the men's high jump on countback over this year's Italian champion Marco Fassinotti.
Men's 4x100 relay:
The British team formed by Chijindu Ujah, Zharnel Hughes, Richard Kilty and Nethaneel Mitchell Blake took a narrow win in the men's 4x100 relay with 38.27 edging Canada by 0.02. The Netherlands finished third with 38.49.
Women's 4x100 relay:
The Dutch women's 4x100 team formed by Jamile Samuel, Dafne Schippers, Marie Van Hunenstjin and Naomi Sedney crossed the finish line first with 42.84 ahead of Great Britain (42.92) and an All-Star team (43.45).
-->