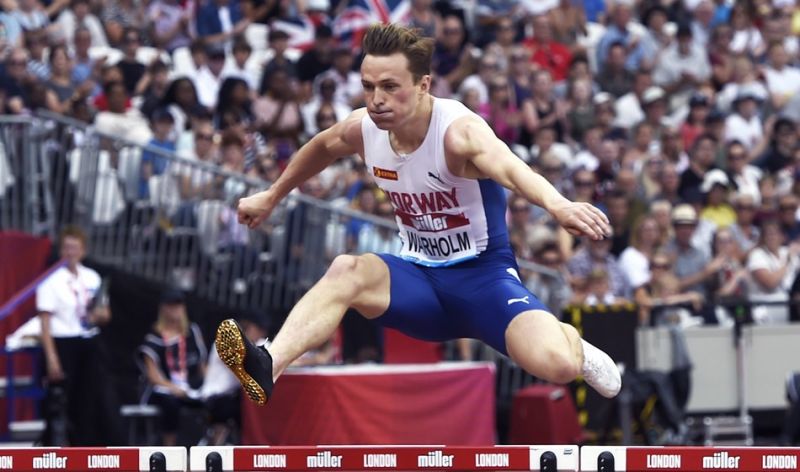 Norwegian star Karsten Warholm is set to highlight the Bislett Games in Oslo, the fourth leg of the Wanda Diamond League. The organizers will be able to welcome back fans in the famous Bislett Stadium after staging the Impossible Games in 2020 behind closed doors.
Warholm will make his debut in this year's edition of the Wanda Diamond League in front of his home fans. The two-time world champion broke the 47 seconds barrier twice in the Diamond League final in Zurich in 2019 with 46.92 and in Stockholm with 46.87 in 2020 and is currently ranked third in the world all-time list behind Kevin Young and Raj Benjamin.
The Norwegian star won the 400m hurdles in Oslo twice in 48.25 in 2017 and in a European record of 47.33 in 2019 and finished second to Abderrahmane Samba in 2018.
Warholm improved his own 300m hurdles world best by half a second to 33.26 at the Night of highlights at the Bislett Stadium in Oslo on 5 June.
Warholm will face Alison Dos Santos from Brazil, who improved his South American record to 47.57 in Doha, 2018 European bronze medallist Thomas Barr from Ireland, who won in the Continental Tour meeting in Turku in 48.39, 2016 Olympic bronze medallist Yasmani Copello and 2014 European silver medallist Rasmus Magi from Estonia.
See the live stream, results and other Oslo Diamond meet info here.
Karsten Warholm: "It's important to have fun and we will see what we get when we cross the finish line. To start the season with my favourite event at Bislett is very cool. I am excited for the return of fans at the Oslo Bislett Stadium. The sport is not the same without fans".
Men's pole vault:
World pole vault record-holder Armand Duplantis, two-time world champion Sam Kendricks and 2012 Olympic champion Renaud Lavillenie will clash for the 21st time in their careers.
Duplantis cleared 6.10m in Hengelo and 6.00m in chilly weather conditions in Karlstad. The Swedish star has won his past five clashes against Kendricks and Lavillenie.
Armand Duplantis: "I want to take advantage of the conditions and jump high tomorrow"
Kendricks came out on top 11 times in his head-to-head clashes against Duplantis and Lavillenie. The US vaulter finished second with 5.85m behind Chris Nilsen at the US Olympic Trials in Eugene. He leads the 2021 Diamond League standings after beating Duplantis in rainy conditions in Gateshead.
Sam Kendricks: "Renaud was the best vaulter in the world in 2014. Then Mondo broke his world record. Being number two takes the pressure off. I am looking forward to competing at Oslo tomorrow.".
Lavillenie recently vaulted 5.92m at the Memorial Janusz Kusocinski in Chorzow producing his outdoor best clearance for three years.
Renaud Lavillenie: "Mondo has shown that 6 metes is no longer a barrier. It's good to be getting to normal. I am happy that fans will be back in Oslo. Last year I competed at Oslo Diamond League from by back garden. It was a crazy experience".
Women's 5000 metres:
Hellen Obiri is aiming to avenge her recent defeat against her younger compatriot Beatrice Chebet in the women's 3000 at the Doha Diamond League. Chebet improved her lifetime best to 8:27.49 in the Doha meeting, but she finished fifth in the super-competitive 5000m race at the Kenyan Olympic Trials.
Obiri qualified for the Olympic Games by winning the 10000m at the Olympic Trials in Nairobi. The Kenyan star won two consecutive world titles in London 2017 and Doha 2019 and set the national record with 14:18.37 in Rome in 2017.
The line up also features 2019 world 5000m silver medallist Margaret Chelimo Kipkemboi, Ethiopian runners Tsehay Gemechu (third in the 10000m at the Ethiopian Trials) and Fantu Worku (fourth in the 5000m at the Ethiopian Trials in 14:29.63) and 2018 European silver medallist, Eilish McColgan, from Great Britain, Karoline Bjerkeli Grovdal from Norway and Yasemin Can from Turkey, European champion in the 10000m in Amsterdam 2016
Svein Arne Hansen Dream Mile: Ingebrigtsen withdraws
Jakob Ingebrigtsen has withdrawn from the Dream Mile after picking up a sore throat, but the traditional Oslo race will be very competitive, as it features Australian 1500m, mile and 3000m record holder Stewart McSweyn, reigning 1500m world bronze medallist Marcin Lewandowski, this year's Kenyan Olympic Trials winner Charles Simotwo and Ugandan record holder Roland Musagala. The Dream Mile has been dedicated to the memory of former Bislett Games meeting director and European Athletics President Svein Arne Hansen, who died in 2020.
Men's 3000 metres: Kejelcha starts as the favourite
World 10000m silver medallist Yomif Kejelcha steps down in distance to run the men's 3000m after finishing second in the 10000m in 26:49.73 at the Olympic Trials. Kejelcha holds impressive PBs in the 1500m with 3:32.59, in the 3000m with 7:28.00 and 12::46.79 in the 5000m. Kejelcha will take on this year's 5000m Kenyan Olympic Trials winner Nicholas Kimeli, 3000m world indoor bronze medallist Bethwell Birgen, Michael Kibet and Birhanu Balew from Barhein (second in the 10000m with 27:07.49 in Ostrava).
Women's 100 metres: Oliver clashes against Ta Lou
Javianne Oliver will make her European debut after finishing second in the 100m final of the US Olympic Trials in 10.99 behind Sha'Carri Richardson after setting a lifetime best of 10.96 in the heats. Oliver will face three-time world medallist Marie Josée Ta Lou, who won the 100m race in Lucerne in 11.09 in a chilly and rainy evening on Tuesday. European Indoor champion Ajla Del Ponte is also returning to form and is looking to improve her seasonal best of 11.07 set at the Swiss Championships in Langenthal. The line-up also features reigning long jump olympic champion Tianna Bartoletta, who clocked a seasonal best of 10.96 in Miramar last June.
Men's 200 metres: De Grasse is looking to win in Oslo for the third time
World and Olympic silver medallist André De Grasse will be looking to win in Oslo for the third time in his career after finishing first in the 100m in 2016 and 2017. The Canadian sprinter will take on 400m Commonwealth Games champion Isaac Makwala from Botswana, who won the 200m in Hengelo in 20.37 and recently showed his good form by clocking 44.47 in the 400m in Chorzow, 100m world finalist Aaron Brown from Canada, who won the 100m and 200m national titles last weekend, and 2018 European finalist Eseosa Desalu from Italy, who won the Italian 200m title in Rovereto last weekend in 20.38 into a headwind of -1.8 m/s.
Women's long jump: Mihambo faces Spanovic and Bekh Romanchuk
World outdoor champion Malaika Mihambo will face world indoor champion Ivana Spanovc and 2021 European Indoor champion Maryna Bekh Romanchuk. Two-time Diamond League champion Spanovic won the first long jump competition of the 2021 Diamond League season in Florence in the jump-off. Bekh Romanchuk won the only long jump competition of the 2020 truncated Wanda Diamond League season and beat Mihambo with 6.92m at the 2021 European Indoor Championships in Torun.
Men's discus throw: Battle of the titans between Stahl and Ceh
The line-up features the top five discus throwers of this year's world list. World champion Daniel Stahl from Sweden set the world seasonal best with 70.55m at the Kuortane Continenal Tour beating European Under 23 record holder and champion Kristjan Ceh, who broke the 70 metres barrier for the first time in his career with 70.35m. Stahl led the 2020 world list with 71.37m and has held the Swedish record with 71.86m since 2019. The other top name to watch is Fredrick Dacres, who won the world silver medal in Doha and won the Diamond Trophy in 2018.
The men's discus throw promises to be a preview of the Olympic Games in Tokyo. Three more throwers with a PB over the 68 metres barrier are set to compete in Oslo: Simon Petterson from Sweden (69.48m), Lukas Weisshaidinger (69.04m) and 2017 world champion Andrius Gudzius (68.62m).
Women's javelin throw: Andrejczyk clashes against Hussong
Maria Andrejczyk set the world seasonal best performance when she won the European Throwing Cup in Split with 71.40m beating Germany's Christin Hussong. Andrejczyk will clash against Hussong at the Oslo Bislett Games. Hussong remained unbeaten in the following seven competitions and set her lifetime best of 69.19m at the European Team Championships in Chorzow.
The line-up is a preview of the Tokyo Olympic Games, as it features 2019 world champion Kelsey Lee Barber from Australia, world record holder and two-time olympic champion Barbora Spotakova from Czech Republic, and 2016 European champion Tatsyan Khaladovic from the Czech Republic.
Men's triple jump: The Cuban clash between Jordan and Andy Diaz
Cuban triple jumper Andy Diaz leads the line-up with his seasonal best of 17.63m set in L'Avana. He will face his namesake Jordan Diaz, who won the world under 18 title in 2017 and the world under 20 gold medal in 2018, 2016 European champion Max Hess from Germany and Mohammed Trik from Algeria.
Women's 400 metres hurdles: Bol starts as the favourite
Reigning 400m European Indoor champion Femke Bol is aiming to win her second Diamond League competition of the season in the women's 400m hurdles three weeks after claiming the victory at the Golden Gala in Florence in a European leading time of 53.44. The Dutch athlete went on to set her 10th National record of the year by clocking 50.37 in the 400 metres at the European Team Championships First League in Cluji Napoca. Bol will take on 2018 European silver medallist Anna Ryzhikova and Viktorita Tkachuk from Ukraine, who set her PB of 54.60 in Geneve.
Women's 800 metres: Nakaayi runs against local favourite Hynne
World 800m champion Halimah Nakaayi will face local star Hedda Hynne (Norwegian record holder with 1:58.10 last year in Bellinzona), Oceania record holder Catriona Bisset from Australia and Katharina Trost from Germany.