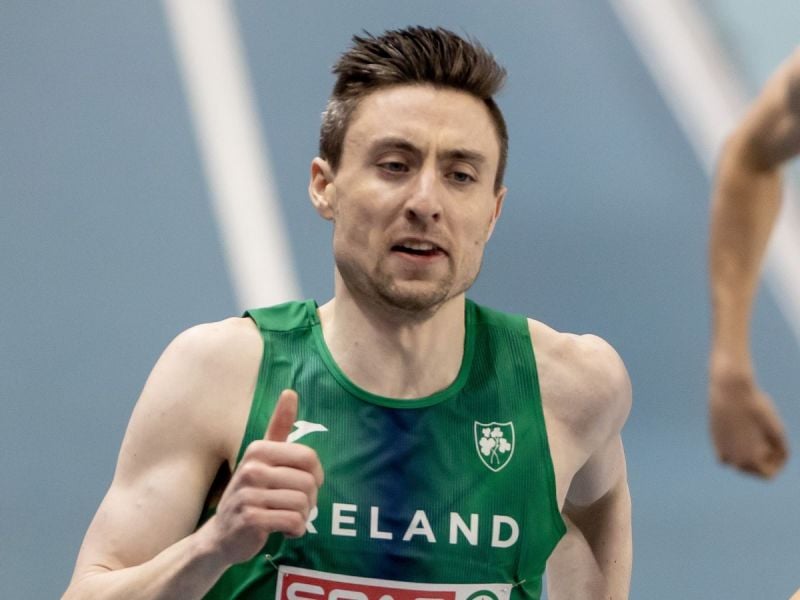 Mark English sealed his spot at the Tokyo Olympics after he broke the Irish 800m record at the Meeting Castello near Barcelona on Tuesday.
English, the 28-year-old three-time European medalist, clocked 1:44.71, well inside the 1:45.20 automatic qualifying time for Tokyo, to break the 26-year-old national record held by David Matthews by 0.11s. He finished second to Algeria's Yassine Hethat (1:44:25). Spaniard Saul Ordoñez Gavela took third place with the Tokyo Olympic auto qualifying mark of 1:44.80.
Elsewhere, Rosemary Almanza of Cuba dominated the women's 800m, clocking 1:58.02, more than four seconds ahead of Sahili Diago (2:02.04) and third-place finisher Agueda Muñoz Marques (2:04.32).
In the women's 1500m Genzebe Dibaba, a World record holder in the event at 3:50.07, ran her season's best time of 4:05.82 for the win.
The 20-year-old Annass Essayi of Morrocco clocked 3:34.64 to win the men's 1500m ahead of Mario Garcia Romo (3:35.79) and Santiago Cartofre (3:36.14).
In the field events, Fatima Diame Diame won the long jump with a huge leap and Tokyo automatic qualifier of 6.82m (W+2.0). The second-place Evelise Veiga also jumped 6.82m but with a slight tailwind of 2.1m/s.
Mauricio Ortega took the men's discus with 65.12m while Yaime Perez prevailed in the women's discus throw contest with 67.90m.
Juan Miguel Echevarria flew 8.38m to win the men's long jump.
See the full meet results here.
-->