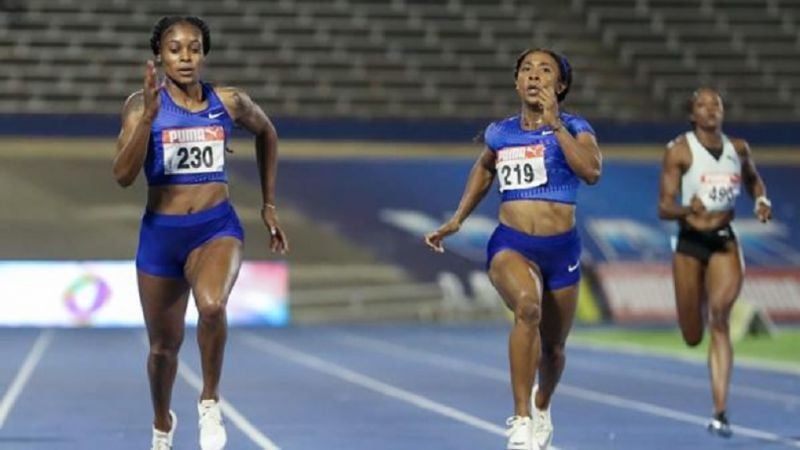 Three women broke the 11-second barrier on the opening day of the 2021 Jamaica National Championships in Kingston on Thursday night.
Shelly-Ann Fraser-Pryce the second-fastest woman in history, easily won the opening heat of the women's 100m preliminary round with 10.97 seconds (W +1.1m/s). In her heat, Shashalee Forbes was second in 11.13.
Defending Olympic 100m and 200m champion Thompson-Herah, won the heat two with 10.96 (+1.0).
But the fastest time in the women's 100m heats came from Shericka Jackson, who clocked 10.91 to win heat 3.
In heat 4 Briana Williams and Kemba Nelson finished 1st and 2nd clocking 11.00 and 11.05 respectively.
Yohan Blake, the 2011 world champion, was the fastest in the men's 100m prelims with 10.03 from heat 2.
Nigel Ellis was the winner in heat 1 in 10.13 while Davonete Burnett was the winner in heat 3 with the second-fastest time in prelims of 10.05.
Julian Forte was a clear winner in heat 4 in 10.08.
Elsewhere, Jaheel Hyde (49.14), Andre Clarke (49.57), and Shawn Rowe (49.57) led the men's 400m hurdles semi-finals.
See the complete Jamaica National Championships results here.
To watch Jamaican track and field championships live, see page here.
Women's 100m heat 1
Women's 100m heat 2
Men's 100m all heats
-->