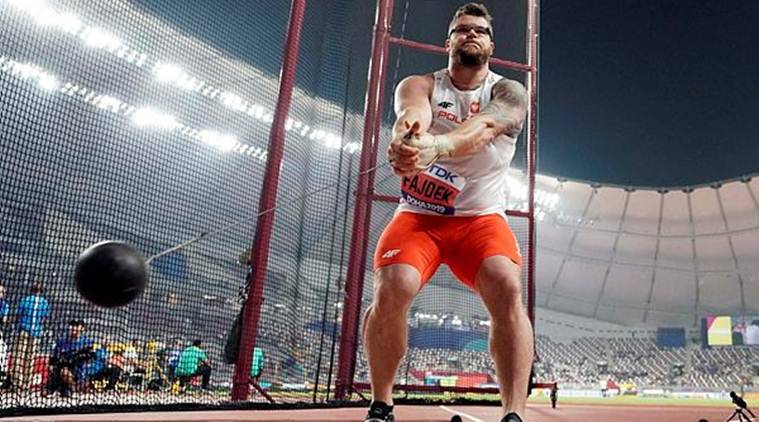 Polish hammer throw stars Anita Wlodarczyk and Pawel Fajdek will be in the spotlight on the second day of the Paavo Nurmi Games in Turku, a World Athletics Continental Tour Gold meeting.
Double Olympic champion and world record holder Anita Wlodarczyk set her seasonal best of 73.87m in her come-back competition in Antalya. Wlodarczyk will face her compatriot Malwina Kopron, who won the world bronze medal in London. Kopron beat Wlodarczyk in their two previous head-to-head clashes this year at the European Throwing Cup in Split with 72.87m and in the Continental Tour Gold meeting in Ostrava with 74.74m.
The line-up also features 2018 European silver medallist AlexandraTavernier from France and Martina Hrasnova from Slovakia. Tavernier recently won the European Team Championships in Chorzow with 75.06m.
Four-time world champion Pawel Fajdek returns to Turku, where he set the men's hammer throw meeting with 82.40m in 2017. The 31-year-old Pole recently won the European Team Championsihps in Chorzow setting the world seasonal best of 82.98m.
Fajdek will take on Doha 2019 world medallists Quentin Bigot from France, Wojciech Nowicki from Poland and Bence Halasz from Hungary. Fajdek beat Nowicki at the recent meeting in Andujar (Spain) with 81.62m to 79.54m.
See live stream and results here.
The Turku meeting is held in two days and started on Monday with the men's discus throw, the women's javelin throw, the men's 400m hurdles, the men's triple jump, the women's long jump, the women's 3000m steeplechase and the women's 800 metres.
Stahl wins Swedish clash against Petterson in the discus throw
World champion Daniel Stahl threw the discus to 68.11m in the fourth round to take the win over Andrius Gudzius (66.88m) and Lukas Weisshaidinger (66.77m) during the first day of the Paavo Nurmi Games.
Stahl has a close relationship to Turku, as his mother Taina Laakso was born in Turku.
Daniel Stahl: "It was pretty good. I am happy with the 68 metres throw. I was a little bit slow in the first three rounds, but then I hit it better.".
Hussong continues her impressive form in the women's javelin throw:
Reigning European champion Christin Hussong set the meeting record in the women's javelin throw in the first day with 66.63m eight days after winning the European Team Championships with 69.19m in Chorzow. Lina Muze finished second with 61.34m beating her compatriot Madara Palameika (60.04m).
Christin Hussong: "It was a really good throw for me. I have thrown over 66 metres five times this year and I think my technique is better than last year. There are a lot of girls throwing over 65m, 66m at the moment".
Men's 400 metres hurdles: Barr breaks meeting record
During the first day of the Paavo Nurmi Games Olympic fourth placer Thomas Barr set the meeting record with 48.39, his fastest ever time outside a championship race and his fastest time since winning the European bronze medal in Berlin 2018. Olympic finalist Rasmus Magi led until the final barrier, but he was overtaken by Barr in the final metres.
Thomas Barr: "I wasn't expecting that. I thought if everything went through, 48-mid was where I was at but I have felt my rhythm come back quickly and I felt very strong over the last few hurdles. It was a brilliant race".
Women's 3000m steeplechase
Winfred Yavi Mutile set the meeting record with 9:17.55 to win the 3000m steeplechase ahead of Michelle Finn from Ireland, who improved her PB by nine seconds with an automatic Olympic qualifying time of 9:29.25.
Moraa runs under 2:00 for the first time in her career
Twenty-one Kenyan middle-distance runner Mary Moraa clocked the first sub-2:00 of her career with 1:59.95 in the women's 800 metres.
Men's triple jump:
Tiago Pereira from Portugal jumped 16.91m to take the win in his final attempt, beating Italian indoor champion Tobia Bocchi, who equalled his outdoor PB with 16.73m.
Women's long jump:
Anasztazia Nguyen from Hungary edged Abigail Irozuru from Great Britain by just one cm with 6.51m in the third round in the women's long jump.
Competitions of the second day:
All-Caribbean clash in the men's javelin throw
Reigning world champion Anderson Peters from Grenada will face 2012 olympic gold medallist Keshorn Walcott from Trinidad and Tobago in an all-Caribbean javelin throw. Peters finished second in Ostrava with 83.39m beating Walcott in their most recent head-to-head clash.
Women's high jump:
On the second day of the meeting former world high jump silver medallist Yuliya Levchenko will try to return to her best form after setting her seasonal best of 1.89m in Ivano-Frankivsk last week. She will face Pole Kamila Lichwinko, who won the Diamond League meeting in Gateshead with 1.91m in rainy conditions and the European Team Championships with 1.94m.
Men's 800 metres:
World bronze medallist Ferguson Rotich leads the line-up in the 800m against European silver medallist Jamie Webb (indoor PB 1:44.54) and Cornelius Tuwei (PB 1:43.82).
Men's 100 metres:
World 4x100m relay champion Michael Rodgers will return to Turku, where he won the men's 100m in 10.00 two years ago.
Women's 100 metres:
Last year's British champion Imani Lansiquot lines up against her compatriots Asha Phillip and Kristal Awuah and European Under 20 champion Vittoria Fontana from Italy.
Women's 100m hurdles:
Luca Kozak, who finished second in the Gateshead Diamond League 100m hurdles race, starts as the favourite against Isabelle Pedersen from Norway and Annemari Korte from Finland.
-->