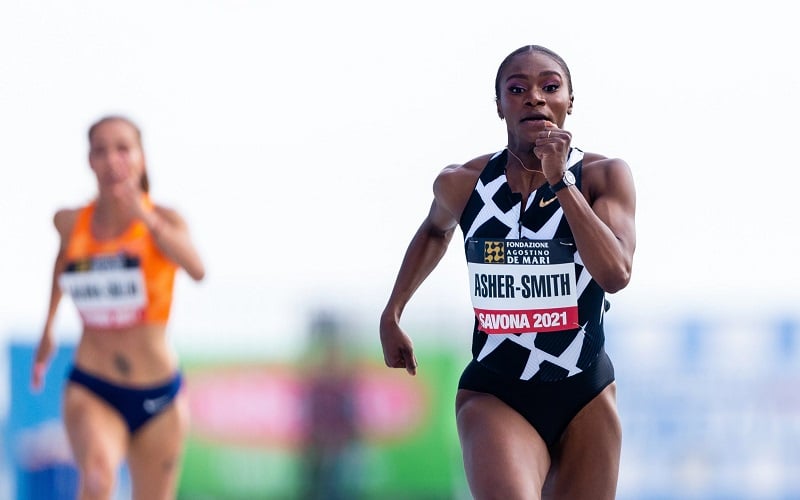 Pole vault world record holder Armand "Mondo" Duplantis will make the first appearance of his career at the FBK Games in Hengelo (World Athletics Continental Tour Gold meeting) on Sunday 6 June. The historic Dutch meeting features four Olympic gold medallists, five world champions and two world record holders.
See live stream and results here.
Duplantis is aiming to break the meeting record and Dutch all-comers record of 5.91m set by US Sam Kendricks in 2019. His 23-meet winning streak came to an end at the Wanda Diamond League in Gateshead where he had to settle with second place behind Kendricks in rainy and cold weather conditions. Duplantis set world records of 6.17m in Torun and 6.18m in Glasgow during the 2020 indoor season and went on to clear 6.15m in Rome breaking Sergey Bubka's world outdoor record last September. He was named World Athletics Male Athlete of the Year in 2020.
In Hengelo the 21-year-old Swedish star will take on reigning Olympic champion Thiago Braz Da Silva from Brazil, Dutch vaulter Menno Vloon, who set the national indoor record of 5.96m last February in Clermont Ferrand, Ben Broeders, Belgian record holder with 5.80m, Harry Coppell, who won the British outdoor title with the national record of 5.85m, Ernest John Obiena from the Philippines, who improved his national record to 5.86m in Lodz last winter.
Armand Duplantis: "I think it's awesome and fun to come to the Netherlands and compete in the 40th edition of the FBK Games in Hengelo".
Women's 100 metres:
World 200m champion Dina Asher-Smith will return to the Hengelo track, where she set her first senior 100m British record in 2015 as a teenager in her only appearance at the Hengelo meeting. In that race the 25-year-old British sprinter was beaten by Dafne Schippers, who set her previous Dutch record with 10.94.
Asher-Smith opened her 2021 season with two wins in the 200m in Savona in 22.56 and in the 100m in Gateshead with 11.35 into a headwind of -3.1 m/s.
Schippers finished second in her first Continental Tour race of the season in Ostrava in the 200m in 22.94. On the Hengelo track the Dutch star won four more times in the 200m in 2016 (22.02), in the 100m in 2017 (11.08), in the 200m in 2018 (22.44) and in 2019 in the 100m (11.06).
The line-up also features Blessing Okagbare, who finished second in her seasonal best of 10.90 in the Doha Diamond League meeting and dipped under the 11 seconds barrier twice more with 10.97 in Eugene and 10.98 in Samorin, European 60m indoor champion Ajla Del Ponte from Switzerland, Olympic 4x100 bronze medallist Darryl Neita from Great Britain, 2018 European 200m bronze medallist Jamile Samuel, 2016 European 4x100 champion Naomi Sedney and European Under 20 silver medallist N'Ketia Seedo.
Hassan runs the 10000 metres
World 1500m and 10000m champion Sifan Hassan will run the 10000m on the track where she set the European record over this distance with 29:36.87 last year. The Dutch runner holds the world mile record with 4.12.33 and the European records in the 1500m (3:51.96), 3000m (8:18.49), 5000m (14:22.12) and half marathon (1:05:15). This year she tested her shape over shorter distances (8:33.62 indoors in the 3000m in Liévin, 14:35.14 in the 5000m in Irvine and 2:01.54 in the 800m in New York).
Hassan will face Daisy Cherotich from Kenya, world finalist Camille Buscomb from New Zealand and Andrea Seccafien from Canada.
Kerley starts as the favourite in the 400 metres
World 4x400 champion and 400m bronze medallist Fred Kerley will aim to improve on his 400m seasonal best of 44.60 he set at the Doha Diamond League meeting. The US sprinter showed his impressive form setting two PBs in the 100m with 9.91 in Miami and 9.96 in Ostrava.
Kerley will take on this year's European 4x400 indoor champions Liemarvin Bonevacia and Jochem Dobber and 2018 European 400m Matthew Hudson Smith from Great Britain.
Nedasekau, Tamberi and Carmoy highlight the men's high jump
All three medallists from this year's European Indoor Championships, Maksim Nedasekau from Belarus, Gianmarco Tamberi from Italy and Thomas Carmoy will highlight the men's high jump. Nedasekau beat Tamberi with 2.37m to 2.35m in a spectacular high jump final in Torun. Tamberi has fully recovered from a minor right foot injury that sidelined him from the European Team Championships in Chorzow last week and is ready to start the Olympic season in Hengelo and Florence next Thursday.
The line-up also features Olympic champion Derek Drouin, who made his come-back from injury with 2.24m in Doha last week, and 2018 Commonwealth Games gold medallist Brandon Starc from Australia.
Gianmarco Tamberi: "I was sorry to miss the European Team Championships. These first competitions I will face the best jumpers in the world, who will fight for a medal at the Olympic Games in Tokyo".
McLeod faces Belocian in the 110m hurdles
Reigning Olympic champion Omar McLeod will race in Europe for the first time since September 2019. The Jamaican hurdler clocked a seasonal best of 13.11 in Irvine and 13.16 in Jacksonville in his first two races this year. He will face Wilhelm Belocian from France, who won the 60m hurdles European Indoor gold medal last March in his PB of 7.42 and will be making his 2021 outdoor debut, and Devon Allen, who won three US 110m titles in 2014, 2016 and 2018.
Camacho Quinn makes European seasonal debut in the women's 100m hurdles
World seasonal leader Jamine Camacho Quinn from Puerto Rico leads the entries with her impressive PB of 12.32 set in Gainesville. The 2018 NCAA champion also won the 100m hurdles at the Continental Tour meeting in Eugene last April. She will be looking to make up for the disappointment in her most recent race in Jacksonville, where she was disqualified for a false start.
Camacho Quinn will take on Megan Tapper from Jamaica, who improved her PB to 12.61 in the semifinal of the World Championships in Doha 2019, Pia Skrzyszowska from Poland, double winner in the 100m and 100m hurdles at the European Team Championships in Chorzow last week, Cyrena Samba Mayela, French champion in 2020 with 12.73, and Elisa Maria Di Lazzaro from Italy, who set her lifetime best wit 12.90 in Savona.
Samba runs his second 400m hurdles race of the season
World bronze medallist Abderrahman Samba will face Olympic bronze and European silver medallist Yasmani Copello. Samba finished third in 48.26 in Doha in his first 400m hurdles race since the 2019 World Championships final.
The other name to watch is 2017 European Under 20 silver medallist Alessandro Sibilio, who beat Copello in Savona in his PB of 49.25 with his trademark kick in the final straight and won the 400m hurdles and the 4x400 relay at the European Team Championships in Chorzow.
Bol starts as favourite on home soil
European indoor 400m and 4x400 relay champion Femke Bol from the Netherlands will run her first race of the season over her favourite 400m hurdles distance. The Dutch hurdler improved five National indoor records last winter and set the Dutch outdoor record in the 400m with 50.56 in Oordegem (Belgium) last week.
Bol will face Olympic silver medallist Sara Slott Petersen from Denmark, European silver medallist Anna Ryzhykhova from the Ukraine, and Lina Nielsen from Great Britain, who claimed the title at the European Team Championships in Chorzow.
Women's 800 metres:
World 800 metres champion Halimah Nakaayi will start her season in the 800 metres against the British quartet formed by European Indoor Keely Hodgkinson, European 1500m outdoor champion Laura Muir, European Under 23 champion Jemma Reekie, and Adelle Tracey. Hodgkinson recently set the European Under 20 record with 1:58.89. The other names to watch are Hedda Hynne, who improved the Norwegian record to 1:58.10 last year in Bellinzona, and Renelle Lamote from France, who set the Olympic qualifying standard with 1:58.65 in Montreuil last Tuesday.
Men's 800 metres:
Elliot Giles makes his outdoor debut after a sensational indoor season, in which he set the second fastest time in history in the world with 1:43.63 in Torun. The 2016 European Indoor bronze medallist will take on his compatriots Max Burgin and Daniel Rowden. Burgin won the 800m in Ostrava in a European under 20 record of 1:44.14. Rowden improved his PB to 1:44.09 in Zagreb in 2020 and finished third in Doha last week in 1:44.60.
Men's 1500 metres:
Jake Wightman from Great Britain, Uganda's Ronald Musagala and recent Montreuil 1500m winner Abel Kipsang are the stand-out names in the men's 1500m. Wightmas became the second fastest British 1500m runner in history with his 3.29.47 in Monaco last year. Musagala set the Ugandan record with 3:30.58 in Monaco 2019.
Women's discus throw:
Double olympic champion Sandra Perkovic will face Cuban throwers Denia Caballero and Yaime Perez, who won the world titles respectively in Beijing 2015 and 2019. Perez leads the world seasonal list with 68.99m and won the Doha Diamond League with 63.75m. Perkovic improved her seasonal best with 66.11m in Mntreuil last Tuesday.
Men's long jump:
Rushval Samaai leads the field with his seasonal best of 8.16m. The South African, who holds a lifetime best of 8.49m, will face Filippo Randazzo from Italy, who won his first Diamond League competition with a wind-assisted 8.11m and the European Team Championships with 7.88m.
Men's 200 metres:
Isaac Makwala from Botswana leads the the men's 200 metres. Makwala is one of the few sprinters to break the 20 seconds in the 200 metres with 19.77 and the 44 seconds with 43.72 in the 400 metres. He made his come-back this year from injury with 20.15 in the 200m and 44.65 in the 400m. Makwala will face European finalist Eseosa Desalu from Italy, who opened his outdoor season with a win at the European Team Championships in Chorzow last week.
Women's 400 metres:
Cynthia Bolingo from Belgium starts as the favourite in the women's 400 metres a few days after improving the national record to 50.75 in Montreuil last Tuesday. Bolingo will take on Lieke Klaver and Lisanne De Witte from the Netherlands, who won the European Indoor 4x400 gold medal.
-->