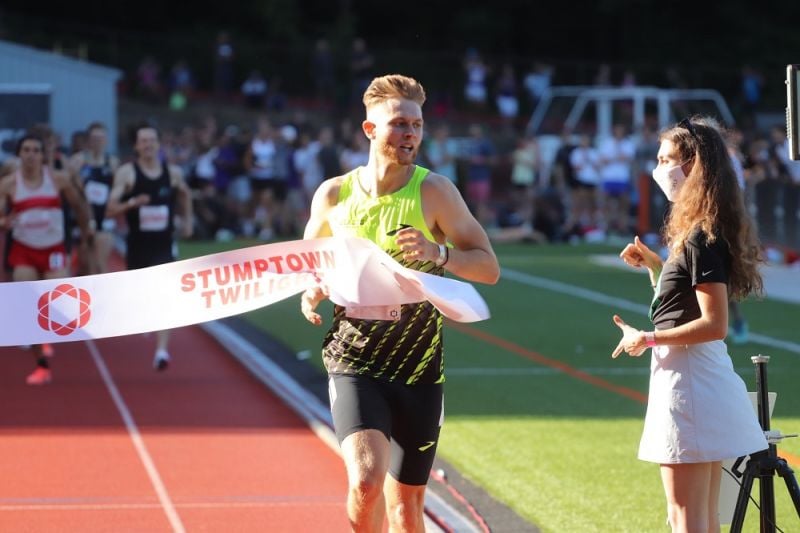 Great Britain's Josh Kerr produced a major highlight by running a huge PB and European 1500m lead at the Stumptown Twilight in Portland, Oregon on Thursday afternoon.
Kerr pulled away from the field over the last 2 laps to cross the finish line more than 4 seconds ahead of the rest of the field in a new PB and European lead of 3:31.55. He bettered his personal best by almost one second (0.97). The 23-year-old's final 800m was 1:53.2. Puerto Rican Rob Napolitano clocked a big PB and an NR of 3:35.63 to take second while Colby Alexander took third in a new SB of 3:35.81 (SB).
Craig Engels who last Saturday on the same track clocked his 1500m PB won the 800m in 1:46.14. Interestingly, the Olympic 1500m champion Matthew Centrowitz ran all three 800 heats, clocking 1:50.33 in the first heat, followed by 1:49.72 in the second heat and 1:53.92 in the third. Centrowitz had only 8 minutes rest between all three heats.
In the women's 800m top section, Sinclaire Johnson took the win in 2:00.16.
Natalia Hawthorn pulled away from the field over the last 200m to win the women's 1500m in 4:04.20.
See the full meet results here.
-->