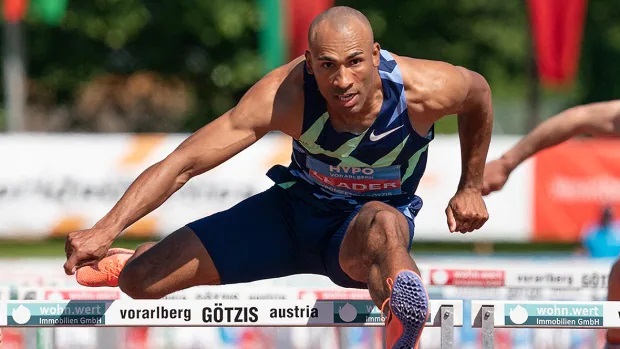 Multiple world medallist Damian Warner smashed his Canadian record and the world seasonal best in the men's decathlon with an impressive PB of 8995 points at the Hypo Meeting in Goetzis. Warner moved to fourth in the world all-time list behind Kevin Mayer (9126 point), Ashton Eaton (9045) and Roman Sebrle (9026).
Warner made history becoming the first six-time winner in the Hypo Meeting, improving the previous record held by legends Roman Sebrle and Carolina Kluft, who claimed five wins each.
Xenia Kriszan from Hungary won the women's heptathlon with a national record of 6651 points. The 2021 European Indoor bronze medallist set four individual PBs in the 100m hurdles (13.31), in the shot put (14.47m), in the 200m (24"32) and the long jump (6.41m.)
See complete meet results here.
Men's decathlon:
Damian Warner set his third world decathlon best of the weekend with an impressive 13.36 in the 110m hurdles to bring his total score to 5802 points at the start of the second day of the Hypo Meeting in Goetzis, the second leg of the World Athletics Combined Events Challenge.
Warner ran even faster in his career clocking 13.27 in an individual race in Edmonton in 2015.
Warner increased his lead to 413 points over his compatriot Pierce LePage, who improved his PB to 14.05. Finley Gaio from Switzerland moved up into third place in the overall standing with 5212 after improving his lifetime best to 13.68. Thomas Van der Plaetzen from Belgium and Rik Raam from the Netherlands also improved their lifetime times respectively with 14.36 and 14.51.
Warner produced the fifth best performance of his career in the discus with 48.43m and continued to lead with 6640. LePage improved his discus PB by almost four metres to 48.25 to consolidate his second position with 6223. Van der Plaetzen threw the discus to 46.64m to move up from fourth into third place with 5984.
Van der Plaetzen won the pole vault with 5.40m to remain in third place with 7019. Warner cleared 4.80m in the pole vault, but he made three unsuccessful attempts at his PB height of 4.90m. The Canadian star scored a total of 7489 points after eight events to lead over LePage, who cleared 5.10m. Tam and Riisto Lillemets set their PBs at 5.10m and 5.00m.
World outdoor champion Nicklas Kaul from Germany won the javelin with 71.49m to move up from 15th into 5th place with 8263 points. Maicel Uibo from Estonia set his javelin PB with 65.80m. Warner finished sixth in his group with a throw of 59.46 metres, well below his PB of 64.67m, to improve his total to 8219 in the penultimate event. Warner had a margin of 361 points over LePage, who produced a best throw of 57.06m.
Warner crowned a very successful weekend with a win in the final 1500m in 4:25.19. LePage clocked 4:40.69 to finish complete the Canadian double with 8534, improving his previous PB by 81 points. Van der Plaetzen and Vitaliy Zhuk finished third and fourth setting their PBs with 8430 and 8331 respectively. Nicklas Kaul rounded out the top-five with 8263 after finishing third in the 1500 in 4:28.86 in his first decathlon competition since his world title in Doha 2019. Thirteen decathletes scored more than 8000 points.
Damian Warner: "To get another win means a lot. It's unfortunate I was five points off the magical 9000 points barrier, but I had some really good results this weekend. Going two years without competition and scoring 8995, I am proud of myself. I am very excited to get close to the 9000 points barrier. The shot put and the javelin let me down, and I did not execute how I wanted, but everything else was really good. I gave it all in the 1500m and my legs are feeling it now. I am very proud with my sixth win in Goetzis. I thank my coaches for getting me ready for this event. I wasn't expecting this result. I am looking forward to the Olympic Games in Tokyo. I am in great shape and finished this decathlon healthy. I just have to improve on the events that let me down this weekend and I am ready to compete".
Warner won his first title in Goetzis in 2013 and then went on to claim four times in a row between 2016 and 2019. Since his first Goetzis victory, Warner has won the world silver in 2015 and bronze in 2013 and 2019, and Olympic bronze in 2016.
Warner ended the first day with the best-ever wind-legal day one decathlon score of 4743 points. He grabbed the headlines this weekend with his outstanding world decathlon best of 8.28m in the long jump, which also broke Edrick Floreal's Canadian record. Warner improved Ashton Eaton's world decathlon best of 8.23m set at the US Olympic Trials in Eugene in 2012.
Damian Warner: "Before I started doing the decathlon, I was a long jumper in high school. I had a couple of injuries and it didn't quite work out and I gave up on the long jump and moved up to the decathlon. The long jump result was awesome because it shows if I keep working at it then I can compete with some of the world's best. 9000 points is an incredible barrier. There is a reason why only three people have ever done it so I know if I ever want to join that club, I have to make sure I execute well in each one of the events".
Women's heptathlon:
Overnight leader Annie Kunz made three fouls in the long jump. Marthe Koala from Burkina Faso won the long jump equalling her lifetime best with 6.64m into a headwind of -1.0 m/s to take the lead in the overall standing with 4865 points. Xenia Krizsan improved her PB by 15 cm to 6.41m to move into second place with 4809. Adriana Rodriguez from Cuba, who won the silver medal at the World Under 20 Championships in Bydgoszcz 2016, jumped 6.64m in her favourite event to move up from ninth to third place with 4799. The Cuban heptathlete had a gap of just five points over US Kendell Williams, who leapt to 6.51m. Anouk Vetter followed in fifth place with 4791 after jumping 6.23m.
Vetter produced a massive throw of 54.77m in her favourite javelin event to climb to the lead with 5744 with only one event to go. The Dutch heptathlete led by a small margin of 36 points over Kriszan, who also threw the javelin to 52.02m. Koala threw the javelin to 43.52m to rank third with 5600. It was a close competition for third place with only 69 points separating Koala, Kendall Williams (5540) and Maria Huntington (5531).
Krizsan finished second in the final 800m in 2:11.51 behind Henriette Jaeger, who claimed her second individual win this weekend with 2:09.79. Krizsan improved her previous Hungarian record by 32 points to 6656 points.
The Hungarian specialist crossed the finish-line with a huge margin of 11 seconds over Vetter, who finished a distant 15th with 2:22.33 to take a runner-up spot with 6536 points. Williams clocked 2:18.56 to clinch third place with 6383 ahead of Maria Huntington (6318), Vanessa Grimm from Germany (6316) and Adrianna Sulek (6315) in a close fight for fifth place. Fifteen heptathletes went over the 6000 points barrier.
Krizsan reached the Goetzis podium for the second time in her career after finishing third in 2019 with her previous PB of 6469. She set her previous best score of 6619 in Talence in 2019.
Xenia Kriszan: "I am surprised with the win and the Hungarian record. I scored a lot of PBs. I really love Goetzis. It was tough to compete after such a long break. I hope to win a medal in Tokyo".