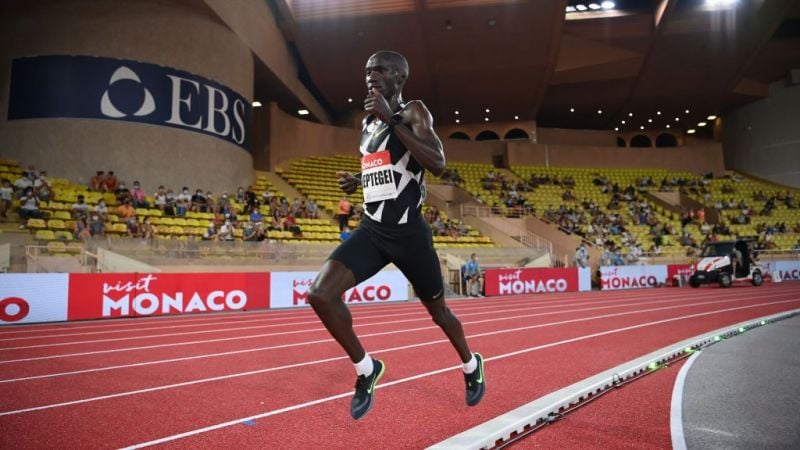 Men's 3000m world record attempt by Joshua Cheptegei, the men's pole vault clash between world record holder Armand Mondo Duplantis and Sam Kendricks, the women's 200m featuring Sha'Carri Richardson, the men's triple jump battle between Fabrice Zango and Christian Taylor are some of the expected highlights at 60th edition of the Golden Spike meeting at the Mezky Stadium in Ostrava on Wednesday 19th May. Ostrava is the first European leg of the 2021 Continental Tour Gold circuit.
Besides Duplantis, Cheptegei and Zango, the other four world record holders, who are expected to headline the Golden Spike are Genzebe Dibaba in the women's 1500m, Barbora Spoakova in the women's javelin throw and Anita Wlodarczyk in the women's hammer throw.
See Ostrava Golden Spike live stream, results, schedule and start lists.
Men's 3000 metres:
World 5000m (12:35.36) and 10000m (26:11.00) record holder Joshua Cheptegei will step down in distance and will run the 3000 metres in his debut at the Golden Spike meeting in Ostrava. The Ugandan star, who holds a PB of 7:33.26 in the 3000m , could attack the meeting record set by Caleb Ndiku with 7:31.66 in 2014. He warmed up for the Ostrava race with a PB of 3:37.36 in the 1500m at altitude in Kampala. Australian 1500m record holder Stewart McSweyn will run as a pacemaker for Cheptegei, who will make an attempt at breaking Daniel Komen's world record of 7:20.67 set at the Rieti meeting in 1996.
Cheptegei will face 2016 Olympic silver medallist Paul Chelimo from the USA and Uganda's Oscar Chelimo, who set his 5000m PB of 13:06.79 in Bergamo last week.
Joshua Cheptegei: "This is a very special year. Here I will test my speed for the Olympic Games. I think at this moment I am pretty satisfied, and at the right place in the right moment. It is a bit of a challenge to do distances. If I have to pick my favourite distance, it would be 10000 metres, because I can endure the speed without a problem. I plan the 10000 metres at the Olympic Games. The first thing about the 3000m in Ostrava is to think about the meeting record and to run as fast as possible. Pandemic did a lot of harm to us but I was able to rediscover my potential and run different distances. Without pandemic, I don't think I would have two world records".
Men's pole vault:
Armand Duplantis will make his first appearance in Ostrava. The world indoor and outdoor record-holder will face two-time world outdoor champion Sam Kendricks, who has held the meeting record with 5.93m since 2019. The six metres barrier could be broken for the first time in the history of the Ostrava meeting. Duplantis is currently second in the world seasonal list with 5.90m. Last winter he jumped 6.10m in Belgrade and won the European Indoor title with 6.05m in Torun. Kendricks beat Duplantis on countback with 5.97m in the World Championships in Doha. The line-up also features this year's European Indoor bronze medallist Valentin Lavillenie from France and 2011 world outdoor champion Pawel Wojciechowski.
Armand Duplantis: "Ostrava will be my first outdoor competition in Europe and I am really looking forward to jumping for the first time in the Czech Republic. My training and preparation back in Louisiana has gone well so I feel confident and hope for good conditions. Finally, I am able to compete here, and it is fun. I have never been here before, so I am very excited. It seems it is going to be such a great meeting. The opening meetings are always nerve-wracking because nobody knows what to expect. It is unpredictable. I just want to have a great feeling after tomorrow and we want to jump high".
Sam Kendricks: "A great meeting has to have all like this, great heritage, a beautiful trophy, organisation stuffed with volunteers, experienced stuff. Zlata Ttetra celebrating its jubilee has all of this. In 2017, I was coming here for the first time. What I love to do is coming to a meeting like this, to jump in front of awesome people. When I was here the first time, I was beaten by Renaud, the world record holder at the time. Now against another WR holder. It is a life circle. Everyone is supposed to wait for it. Mondo is prepared as last year. We can expect many things from him. If I could speak for him, I can say he is capable to jump 6.30m one day. When jumping over 6.00m, everything must be perfect. When somebody asked me about jumping 6.30m, I said it is no my destiny, but it's Mondo's. He might do it for several years."
Men's triple jump:
Fabrice Hugues Zango from Burkina Faso made history last January when he became the first triple jumper to leap over the 18 metres barrier with his world indoor record of 18.07m in Aubière. Zango started the outdoor season with a world-leading mark of 17.40m in Montpellier on 8 May.
The 2019 world outdoor bronze medallist will renew his rivalry against double Olympic champion and four-time world outdoor champion Christian Taylor, who set the second-best performance in history with 18.21m at the World Championships in Beijing 2015 and holds the Golden Spike meeting record with 17.57m. Taylor beat Zango at the 2020 edition of the Golden Spike meeting by just four cm with 17.46. Taylor set a seasonal best of 16.52m in his most recent competition in Eugene, but he jumped off a shortened run-up. The other top names are Germany's Max Hess, European Indoor bronze medallist in Torun 2021, and Melvin Raffin from France, European Under 20 champion in Grosseto 2017.
Women's 200 metres:
Sha'Carri Richardson will make her first appearance of her career in Europe. The 21-year-old US sprinter improved her career-best in the 100m in Miramar with 10.72 and clocked 10.74 in the heats and 10.77 into a headwind of -1.2 m/s in the Continental Tour Gold meeting in Walnut. Richardson set a seasonal best of 22.11 over the 200m in Clermont missing her PB by 0.11.
Richardson will face two-time 200m champion Dafne Schippers, who won the 200m in Ostrava in 22.52 in 2018 and the 150m race in 16.56 last year, Blessing Okagbare from Nigeria, world 200m bronze medallist in Moscow 2013, and world 200m bronze medallist Mujinga Kambundji from Switzerland.
Men's 100 metres:
Olympic and world 200m silver medallist André De Grasse will be aiming to win for the second time in his career in Ostrava after finishing first in the 200m in 19.91 in 2019. The Canadian sprinter has already dipped under the 10 seconds barrier this year with 9.99 at the Tom Jones Invitational in Gainesville.
De Grasse will take on US 400m Fred Kerley, who improved his 100m lifetime best to 9.91 in Miami last April, and 2017 world champion Justin Gatlin, who dipped under the 10 seconds barrier with 9.98 twice this year at the age of 39.
Kerley will also run the 200m against Kenny Bednarek, who finished second to Noah Lyles in 19.94 in Walnut and set a career-best of 19.80 last year. Kerley equalled his PB with 20.24 in Gainesville last April.
Men's 400 metres:
Grenada's 2012 Olympic champion Kirani James will return to the Ostrava Golden Spike for the first time since 2013 when he won the 400 metres in 44.49. James won the first title of his career at the 2007 World Under 18 Championships. The 28-year-old Grenadan sprinter made a successful comeback from injury at the World Championships in Doha when he clocked 44.23 in the semifinal before finishing fifth in the final in 44.54. James opened the 2021 season with a win in 44.88 at the Canyon Invitational in Phoenix. James will face US Vernon Norwood, who is the fastest athlete in the field with 44.64.
Kirani James: "I arrived today from Phoenix and it was a long flight. However, I feel ready for the meeting and I am mainly excited for the opportunity to compete. It will be my third race in Ostrava. I ran here in 2007 at the World Youth Championships and I will never forget it. It was my first time on the world stage. It was a huge experience for me. I also competed at Golden Spike in 2013. It was after I won the gold medal at the Olympic Games in London and I was very excited to be here. I ran in this type of weather already before. I ran 44.2 with 15°C during the Commonwealth Games. I cannot change the weather. I can only control how I compete. I am also used to run in rainy weather. I cannot predict what will be. The meeting record does not belong to me anymore, but we will see what is going to happen on Wednesday. Last year I only rested and trained a lot. It was tough but all of the athletes were aware of the seriousness of the situation. It was bigger than athletics and the Olympic Games. It was people's health, so it was necessary. Now I am back, and I am excited to compete again".
Men's 10000 metres:
World half-marathon champion Jacob Kiplimo will be targeting the Olympic qualifying mark of 27:28.00 in the 10000m. He set his PB of 27:26.68 when he claimed the world under 20 bronze medal as a 15-year-old in Bydgoszcz in 2016. At last year's edition of the Golden Spike, the 20-year-old Ugandan runner won the 5000m setting his PB of 12:48.63.
Men's 3000 metres steeplechase:
World 3000m steeplechase fourth placer and 2019 Diamond League champion Getnet Wale will be aiming to improve his PB of 8:05.21 after setting the second-fastest time in history in the indoor 3000m with 7:24.98 in Liévin.
Women's 1500 metres:
World 1500m record holder Genzebe Dibaba will be aiming to improve the meeting record of 3:59.05 set by Faith Kipyegon last year. The Ethiopian star clocked 1:05:18 in her debut over the half marathon distance in Valencia last December. Dibaba will face Uganda's Winnie Nanyondo, who finished fourth in the 800m at the World Championships in Doha 2019 and clocked her lifetime best times of 1:58.63 in the 800m and 3:59.56 in the 1500m.
Diana Mezulianikova and Simona Vrzalova will be targeting the Olympic qualifying standard.
Men's 1500 metres:
World 1500m bronze medallist Marcin Lewandowski will face Ronald Musagala, who set the Ugandan record with 3.30.58 in Monaco in 2019, Adam Ali Musaab from Qatar, who set the world seasonal best with 3:32.41 in Doha last February, and 2015 European Indoor Jchampion Jakub Holusa and Filip Sasinek from the Czech Republic.
Women's 800 metres:
British teenager Keely Hodkinson will face a good-quality field in the women's 800 metres against Norwegian record holder Hedda Hynne (1:58.10 last year), Lovisa Lindh from Sweden and Lore Hofmann from Switzerland. Hodkinson set the world under 20 indoor record with 1:59.03 in Vienna and won the European Indoor title in Torun last winter.
Men's 800 metres:
The all-European field in the men's 800 metres features 2019 world silver medallist Amel Tuka from Bosnia, 2021 European indoor champion Patryk Dobek, 2018 world indoor champion Adam Kszczot and Mateusz Borkowski, British middle-distance runners Jake Wightman (winner in the 800m in Ostrava last year in 1:44.18) and Max Burgin, who clocked 1:44.75 at the age of 18 and won the European under 18 gold medal in Gyor 2018.
Men's javelin throw:
German record holder Johannes Vetter will be aiming to improve his seasonal best of 91.50m set in Offenburg last April. The 2017 world champion became the second-best performer in the world in history with 97.76m in Chorzow last September.
Vetter will also clash against 2019 world champion Anderson Peters from Grenada (winner in the Continental Tour meeting in Eugene with 82.72m), 2012 Olympic champion Keshorn Walcott from Trinidad and Tobago and the Czech trio formed by Jakub Vadlejch and Petr Frydrych, silver and bronze medallists at the World Championships in London 2017, and Vitzslav Vesely, world gold medallist in Moscow 2013.
Women's javelin throw:
Local fans will cheer on Czech javelin throw legend Barbora Spotakova, who holds the world record with 72.28m and won two Olympic titles. Spotakova will face a tough battle against Maria Andrejczyk, who finished fourth at the 2016 Olympic Games in Rio de Janeiro and set the Polish record with a world-leading mark of 71.40m at the European Throwing Cup in Split Christin Hussong from Germany, European gold medallist in Berlin 2018, Sara Kolak, reigning Olympic champion in Rio de Janeiro 2016, and Nikola Ogrodnikova, third at the European Championships in Berlin 2018.
Women's hammer throw:
World hammer throw record holder Anita Wlodarczyk from Poland returns to Ostrava, where she won four editions of the Golden Spike in 2015 (76.61m), 2016 (27.54m), 2017 (79.72m) and 2018 (76.43m). The two-time Olympic champion and four-time world champion has made a successful comeback from injury with two wins in Antalya with 73.87m and at the European Throwing Cup in Split with 72.87m.
The Polish star will face European silver medallist Alexandra Tavernier, who set the French record with 75.38m in Salon de Provence last February, Mihaela Hrasnova from Belarus (PB 76.90m) and Malwina Kopron, world bronze medallist in London 2017 and winner of the 2021 European Throwing Cup in Split 2021.
Men's shot put:
This year's European Indoor champion Tomas Stanek will take on 2018 European outdoor champion Michal Haratyk in a re-match of this year's continental indoor championships in Torun. The line-up is completed by Italian indoor record holder Leonardo Fabbri, who finished third with 21.27m at last year's edition of the Golden Spike, and 2019 European Under 23 gold medallist Konrad Bukowiecki from Poland.
400 metres hurdles:
Olympic bronze medallist and European silver Yasmani Copello will clash against 2017 European Under 20 Alessandro Sibilio from Italy for the second time this month. Sibilio beat Copello in Savona last week improving his PB to 49.25.
Women's 400 metres hurdles:
Olympic silver medallist Sara Slott Pedersen from Denmark, 2018 European silver medallist Anna Ryzhikova and reigning British champion Jessie Knight headline the women's 400m hurdles.
Men's long jump:
Radek Juska from the Czech Republic holds the best PB among the entrants with 8.31m in an all European competition, which also features 2018 European outdoor silver medallist Fabian Heinle from Germany, Benjamin Gfohler from Switzerland (8.13m) and Adam Sebastian Helcelet from the Czech Republic, who won the European silver medal in the decathlon with 8157 in Amsterdam 2016.
-->