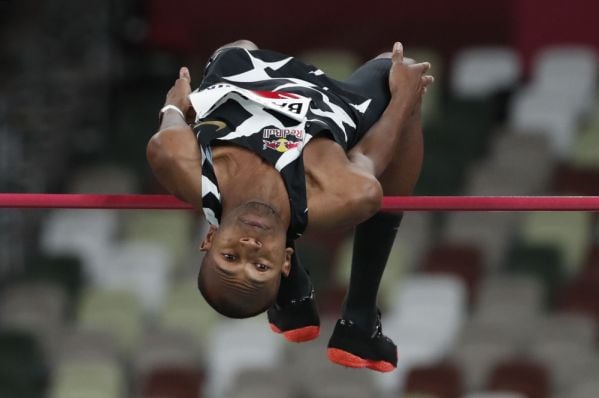 The Ready Steady Tokyo was the test event for next summer's Olympic Games at the Tokyo National Stadium and welcomed some of the best Japanese athletes and top international stars like Mutaz Barshim and Justin Gatlin.
Men's high jump:
Double world champion Mutaz Barshim and Japanese indoor record holder Naoto Tobe shared the win with 2.30m. Both Barshim and Tobe had a clean sheet clearing all heights from 2.15m to 2.30m at the first attempt before failing three attempts at 2.33m.
They had an additional attempt at 2.33m in the jump-off, but they were not able to clear this height. They felt the strain after the long competition and decided to share the win ahead of Japan's Takashi Eto, who equalled his seasonal best of 2.30m on his second attempt to finish third on countback.
Men's 400 metres hurdles:
Nineteen-year-old Kazuki Kurokawa won the men's 400m hurdles smashing his PB from 49.19 to 48.68. Hiromi Yamauchi improved his PB by more than one second to finish second in 48.84. Former world under 18 bronze medallist Masaki Toyoda also dipped under the 49 seconds for the first time in his career to finish third in 48.87. The top three hurdlers set the qualifying standard for the Olympic Games in Tokyo.
Men's 100 metres:
Former world 100m champion Justin Gatlin won the men's 100m in 10.24 edging Japanese sprinters Shuhei Tada (10.26) and Yuki Koike (10.28). Gatlin earned his third win in Tokyo after finishing first in 2014 and 2016 with the same time of 10.02.
Gatlin finished second behind Tada in the heats, but he was able to catch the Japanese sprinter late in the final and edged him on the finish-line. Yoshihide Kiryu did not get through from the heats after he was disqualified for a false start.
Justin Gatlin: "I felt good. I had a cramp in the preliminaries, but I took some time and rest it because I knew technique could help me out. I have not run my best in Japan, so I am working on that right now, so by the time I get to Japan for Tokyo, I will run the best I have ever run. I hope I will have a realistic chance to win a medal at the Olympic Games in Tokyo. That's why I am still here. I love making Olympic teams, but I am not in for the free trip. I want to to be able to work hard and get on top of the podium again at some point, and I hope this will be my year. It will be my fourth and last Olympics. I am saying it right now that I would hang up my spikes this summer, but the way my career is going, I don't know. I am still hungry for competitions, so I won't say never".
Men's 3000m steeplechase:
Nineteen-year-old middle-distance runner Ryuji Miura won the men's 3000m steeplechase with 8:17.46 improving the previous national record of 8:18.93 set by Yoshitaka Iwamizu at the 2003 World Championships in Paris. Miura beat Philemon Kiplagat Ruto (8:21.10). Miura clocked 1:01:43 in the half marathon last October.
Men's long jump:
Reigning world under 20 champion Yuki Hashioka was the only athlete to jump over the 8 metres barrier with 8.07m in the first round. Hashioka hails from an athletics family. His father Toshiyuki is a former national record holder in the pole vault. His mother Naomi was a former national record holder in the 100m hurdles.
Men's 110m hurdles:
Taioh Kanai won his second consecutive 110m race this season in 13.38 holding off Shunsuke Izumiya by 0.05. Former national record holder Shunya Takayama finished third in 13.45. Ten days ago Kanai set the second fastest time in Asia and the Japanese record with 13.16 in Hiroshima.
Women's 100 metres hurdles:
Japanese Asuka Terada missed her national record by just 0.03 in 12.99 into a headwind of -0.8 m/s. Masumi Aoki finished second in 13.06. Terada set the national record with 12.96 last month in Hiroshima.
Men's Javelin throw:
Japan's Takuto Kominami produced the only throw over the 80m barrier with 80.98m in the fifth round to beat his compatriot Kenji Ogura (78.20m) and Shih-Feng Huang (77.35m).
Men's 200 metres:
Shota Iizuka won the 200 metres setting his seasonal best in 20.48 just a few days after claiming another first place in the Continental Tour in Fukuroi in 20.52. Iizuka won his 14th race this season including heats.
Men's 400 metres:
Kentaro Sato won the men's 400 metres in 45.61 missing his PB by just 0.03. Sato came to the fore in 2015 when he won the bronze medal at the Asian Championships in Wuhan.
Women's 1500 metres:
Reigning 3000m world under 20 champion Nozomi Tanaka claimed the women's 1500m race at the Tokyo Continental Tour meeting for the second consecutive year in 4:09:10. Tanaka set the Japanese 1500m record with 4:05.27 at the Seiko Golden Grand Prix in Tokyo last year.
Men's 5000 metres:
Tekachi Ichida broke away in the final 300m to cross the finish line in a PB of 13:27.73 improving on his previous PB of 13:33.99. The Japanese runner beat 2017 world under 18 steeplechase silver medallist Cleophas Kandie Meyan (13:29.33).
Women's 5000 metres:
Kenyan teenager Teresia Muthoni Gateri followed up her recent PB of 15:06.76 set in Hiroshima with a win in Tokyo in 15:10.91 ahead of her compatriot Judy Jepngetich (15:11.52).
Women's 3000m steeplechase:
Kenya's Joan Chepkemoi claimed the win in the women's 3000m steeplechase in 9:39.29.
See the full meet results here.
-->