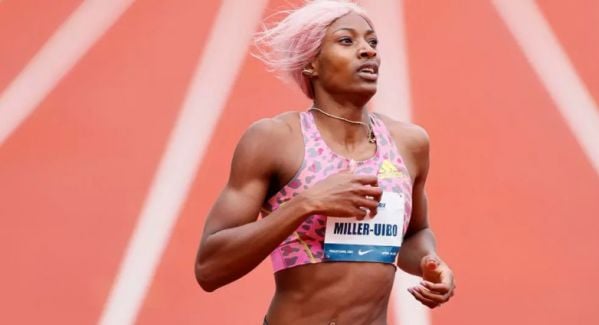 Reigning Olympic champion Shaunae Miller Uibo set the fastest time in the world this year and the Hayward Field record in the women's 400m with 49.08 improving the previous seasonal best time set by Namibian Christine Mboma with 49.22 last week. Miller Uibo opened up a clear margin on the rest of the field on the final straight to set the fourth fastest time in her career. She improved Ana Guevara's previous stadium record by 0.26.
Shaunae Miller Uibo: "The 400m is my favourite event, so I love coming in and trying to figure it out and having some fun with unravelling the secrets of it. We have been really working on getting our strength up and now that we are in the middle of the season we are going on speed and getting ready to put some great performances in the 200m"
Former NCAA champion Lynna Irby finished second with 50"28 ahead of Jessica Beard (50.38) and Kendell Ellis (51.37).
Women's 100 metres hurdles:
Puerto Rico's Jasmine Camacho Quinn followed up her world seasonal best of 12.32 last week in Gainesville with another impressive 12.46 in the women's 100m hurdles in rainy and with a temperature of 14°C. Jamaica's Brittany Anderson finished second with 12.82 ahead of Talliah Brooks (12.83) and world 400m hurdles Sydney McLaughlin (12.86).
Men's hammer throw:
Rudy Winkler came close to 81 metres in the men's hammer throw with 81.98m becoming the second US hammer thrower in history. Winkler produced the best performance in the world in the past four years. He opened the competition with three throws over the 78 metres barrier followed by a foul in the fourth round and two throws of 80.09m 81.98m. He missed Lance Deal's North American record by 54 cm.
Rudy Winkler: "My first couple of throws were not right technically, but on my last two throws I executed the way I wanted and threw a personal best"
Dutchman Denzel Comenenzia finished second with 76.72m.
Women's hammer throw:
Brooke Andersen won the women's hammer throw with 77.99m and backed up this result with a second best throw to 77.79m. Anderson, who missed her PB by 19 centimetres, beat world champion DeAnna Price for the first time in her career.
Men's 100 metres:
Former world indoor 60m Trayvon Bromell won the 100m final in 10.01 in cool weather conditions and into a headwind of -0.2 m/s beating world 200m champion Noah Lyles, who recovered from a slow start to take second place with 10.17 ahead of Liberia's Emmanuel Matadi (10.19) and US Mike Rodgers (10.24).
Men's 400 metres:
Michael Norman held off his friend and training partner Raj Benjamin in the final straight to win the men's 400m in 44.67 to 44.97. US tenager Justin Robinson finished third with 45.55.
Women's 100 metres:
Nigeria's Blessing Okagbare dipped under 11 seconds in the women's 100 meters in 10.97 ahead of Morolake Akinosun (11.09).
Men's 200 metres:
Former 4x400 relay world champion Jereem Richards from Trinidad and Tobago claimed the win in the men's 200m in 20.26 ahead of Josephus Lyles (20.46) and Jamaica's Christopher Taylor (20.73).
Women's 1500 metres:
Reigning European outdoor champion Laura Muir from Great Britain made a winning start to her outdoor season in the women's 1500 metres in 4:01.54. US Helen Schlachtenhaufen finished a distant second with 4:04.36.
Women's 5000 metres:
Elish McColgan ran the final km in 2:52 to win the women's 5000m in 14:52.44 with a big margin over US Abbey Copper, who finished second in 15:13.27.
Men's 1500 metres:
Australia's Oliver Hoare set his outdoor PB with 3:33.54 to win the men's 1500m ahead of Justyn Knight (3:35.85) and world 800m champion Donovan Brazier (3.37.58).
Women's 800 metres:
Adelle Tracey edged out European 800m and 1500m under 23 champion Jemma Reekie by 0.01 in a very close 800 metres race in 2:03.25
Men's 800 metres:
Kenya's Michael Saruni won the mn's 800m in 1:46.64 holding off Isiah Harris (1:46.92).
Men's javelin throw:
Reigning world champion Anderson Peters won the men's javelin throw with 82.72m ahead of Riley Dolezal (78.28m).
Women's shot put:
Chase Ealey claimed the win with 18.93m ahead of Jamaica's Danniel Thomas Dodd (18.46m) and Jessica Ramsey (18.40m) in rainy conditions.
Men's triple jump:
Donald Scott took the win in the men's triple jump with 16.89m beating Clive Pullen (16.55m) and double olympic champion Christian Taylor (16.52m).
Men's long jump:
US Marquis Dendy came close to 8 metres with 7.98m to beat Charles Brown (7.82m).
See the full meet results here.
-->