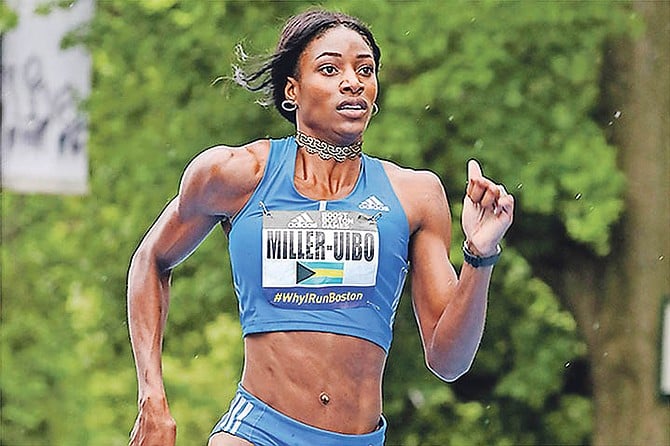 The World Athletics Continental Tour Gold series will start on Saturday 24 April with the Oregon Relays in Eugene in the renovated Hayward Field, the venue for the World Athletics Championships in July 2022.
Shaunae Miller Uibo, Noah Lyles, Allyson Felix, Michael Norman will be in the spotlight in what is expected to be a great meeting for sprint disciplines.
Women's 400 metres:
Reigning 400m Olympic champion and world silver medallist Miller Uibo will run her first outdoor 400m race of the season after clocking 22.03 in the 200m in Clermont on 4 April. Last winter she set the world indoor seasonal best in the 400m with 50.21 in Boston and improved her indoor PB to 22.40 in the 200m in Fayetteville.
The Bahamian sprinter, who announced that she will run the 200m at next summer's Olympic Games in Tokyo, will face US Phyllis Francis (double world 400m and 4x400 relay champion in London 2017), Wadeline Jonathas (fourth in the 400m in 49.60 at the World Championships in Doha 2019), Lynna Irby (winner in the 400m in the Diamond League in Monte-Carlo in 2020 in 50.50), Kendall Ellis (world 4x400 champion in London 2017 and Doha 2019) and Jessica Beard (two-time world 4x400 champion in Daegu 2011 and Moscow 2013).
Women's 100 metres:
Multiple world and olympic champion Allyson Felix will run her second 100m sprint race this year after clocking 11.31 in Phoenix on 4 April. Felix showed her impressive form last February when she clocked 22.59 in the 200m indoors at the American Track League in Fayetteville. The 35-year-old US sprint legend, who set her 200m PB with 21.69 on the Hayward Field track in 2012, will be looking to qualify for the Olympic Games at the Olympic Trials next June. In the build-up to the Olympic qualifying race Felix will face a high-quality 100m race that features 12 sub-11 second sprinters, including Jenna Prandini (US National champion in the 200m in 2016), Nigeria's Blessing Okagbare (silver in the long jump and bronze in the 200m at the World Championships in Moscow 2013), US Tehania Daniels and Morolake Akinosun, first and third at the 2019 US National Championships, Hanna Cunliffe (10.99 in the 100m in 2016), Kayla White (second at the 2019 NCAA Championships in 10.95), reigning long jump olympic champion Tianna Bartoletta, Jamaica's Briana Williams (double world under 20 champion in the 100m and 200m in Tampere 2018).
Men's 100 metres:
Reigning 200m and 4x100 world champion Noah Lyles will run his second 100m race of the outdoor season one week after clocking 10.08 at the Tom Jones Invitational in Gainesville. The US sprint star will take on world seasonal leader Ronnie Baker, who clocked 9.94 at the Texas Relays in Austin. The line-up also features 2016 world 60m indoor champion Trayvon Bromell, who made an impressive come-back from a long injury lay-off clocking 9.90 in the 100m last summer. Bromell confirmed her form clocking 6.48 in the 60m in Fayetteville last winter.
The line-up also features reigning world 4x100 relay champion Michael Rodgers, 100m and 200m NCAA champion Divine Oduduru from Nigeria, 2014 world indoor silver medallist Marvin Bracy, Cameron Burrell, 100m NCAA champion in 2018 and Cravon Gillespie, second at the 2019 NCAA Championships in 2019 in 9.93.
Men's 400 metres:
Michael Norman will clash against his friend and training partner Raj Benjamin in the men's 400 metres. Norman clocked 43.45 in Walnut in 2019 to become the joint fourth fastest ever sprinter over the one-lap distance. Benjamin dipped under 47 seconds in the 400m hurdles race with 46.98 in Zurich and won the world silver medal in Doha in 2019. Norman beat Benjamin in the New York World Indoor Tour meeting in 45.34 last February. The other stars to watch are Kenya's Emmanuel Korir, who holds PBs of 44.21 in the 400m and 1:42.05 in the 800m, and 18-year-old rising star Justin Robinson, who set the world under 18 best with 44.84 last year and clocked 45.23 in Miramar in 2021.
Women's 100 metres hurdles:
Jasmine Camacho Quinn will return to the track one week after setting the seventh fastest time in history in the women's 100m hurdles with 12.32 in Gainesville. The Puerto-Rican hurdler will take on world 400m hurdles silver medallist Sydney McLaughlin, who set her PB with 12.92 at the Bryan Clay Invitational in Azusa last week to become the first athlete to break 13.00 in the 100m hurdles, 23.00m in the 200m and 53.00 in the 400m hurdles. The line-up also features Tobi Amusan from Nigeria, who won the gold medal at the 2018 Commonwealth Games in Gold Coast and finished fourth at the 2019 World Championships in Doha.
Men's 200 metres:
European 100m record holder Jimmy Vicaut from France will start his season in the 200m against 2017 world bronze medallist Jereem Richards from Trinidad and Tobago, US Josephus Lyles, who finished second to his brother Noah in the Monte-Carlo 200m race last year, and US Ameer Webb, who clocked 10.09 in the 100m in Azusa last week.
Women's 800 metres:
Double 800m and 1500m European Under 23 champion Jemma Reekie starts as the favourite in the women's 800 metres. Reekie, who improved her outdoor PB to 1:58.63 last year in Chorzow, will face world silver medallist Raevyn Rogers and 2015 world championships second placer Melissa Bishop.
Women's 1500 metres:
Reigning 1500m European champion and double world indoor medallist Laura Muir will clash against US Jemma Simpson, who won the world 1500m gold medal in Daegu 2011 and the olympic bronze medal in Rio de Janeiro 2016. Muir set the fastest time in the world in 2020 with 3:57.40 in Berlin and the British indoor record with 3:59.58 in Lievin last February.
Men's 1500m
Reigning 800m world champion Donovan Brazier will test his shape over 1500m against 2019 NCAA champion Bryce Hoppel, who clocked 1:44.37 indoor in the 800m in New York last February and Oliver Hoare from Australia, who set the 1500m Oceania indoor record with 3:32.35 in New York.
Former 800m world indoor bronze medallist Erik Sowinski is the fastest entrant in the men's 800 metres.
Women's 5000 metres:
Last year's London Marathon runner-up Sara Hall from the USA will run her first track race since 2016. Hall will face this year's European indoor 3000m champion Amy-Eloise Markovc from Great Britain, 2018 European 5000m silver medallist Elish McColgan from Great Britain and Australian record holder Jessica Hull.
Women's high jump:
Vashti Cunningham will compete for the second time this outdoor season in the women's high jump after clearing 1.97m in Chula Vista. The 2016 world indoor champion set her indoor PB with 2.00m in Fayetteville last February. The daughter of former NFL legend Randall Cunningham will face world and Olympic finalist Inika Cunningham.
Men's triple jump:
Four-time world champion and two-time Olympic gold medallist Christian Taylor will compete for the second time this year after jumping 16.19m in his debut last week in Gainesville. The US star set a stadium record of 18.11m in the Eugene Prefontaine Classic in 2017.
Commonwealth Games gold medallist Kimbelry Williams, Thea Lafond from Dominica (third in the world seasonal list with 14.35m) and US Tori Franklin are the best entrants in the women's triple jump.
Men's javelin throw:
Reigning world champion Anderson Peters from Grenada leads the men's javelin throw line-up. Peters started the 2021 season with 82.51m in Austin a few weeks ago.
Women's hammer throw:
World champion DeAnna Price will compete for the first time since her North American record of 78.60m in Columbia. Price will clash against Brooke Andersen, who became the second US hammer to throw over the 78 metres barrier with 78.18m.
Men's hammer throw:
Rudy Winkler holds the best PB among the entrants in the men's hammer throw with his PB of 80.70m.
Women's shot put:
Reigning olympic champion Michelle Carter will face world silver medallist Danniel Thomas Dodd from Jamaica, reigning US champion Chase Ealey, 2019 world championships fourth placer Maggie Ewen and Olympic fifth-placer Raven Saunders.
See the live stream and TV coverage info here.
-->