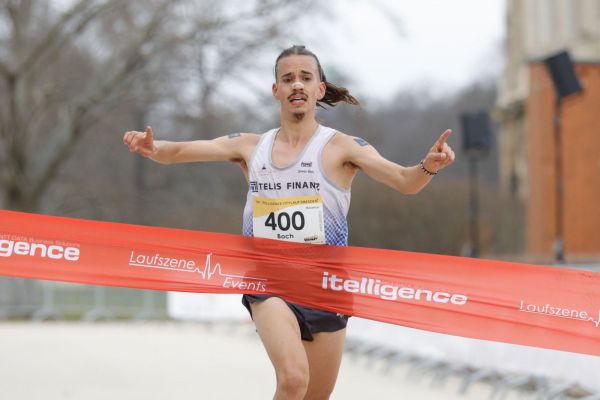 Despite freezing and windy conditions Simon Boch ran a strong debut marathon at the Itelligence Citylauf Invitational in Dresden on Sunday. The German winner clocked 2:10:48 and broke the Olympic qualifying standard. Poland's Anna Bankowska took the women's race in 2:31:16. In the half marathon Fabienne Schlumpf broke the Swiss record with a time of 68:27 while Germany's Richard Ringer won a highly contested men's race with 61:33. Richard Douma of the Netherlands and Katharina Steinruck of Germany were the winners of the 10 k races with times of 28:55 and 31:59.
The Itelligence Citylauf Invitational was an elite only race staged on a 2.5 k lap in a large park area in Dresden. It was organized by "Laufszene Events" and Berlin's elite road running management ISS of Christoph Kopp.
With temperatures little above freezing point and a considerable head wind o the back straight of the course conditions were not easy for the runners. But it became worse for Simon Boch, when his sole pacemaker dropped out early around 12.5 k. Training partner Tim Ramdane Cherif was supposed to lead the debutant until 25 k. After an initial 10 k split time of 30:34 Simon Boch was able to hold on to the pace as planned during the first half. He reached the half way point in 64:36. Despite his courageous race the 26 year-old, who had improved his half marathon PB to 61:36 at last year's World Half Marathon Championships, did slow during the second half.
Clocking 2:10:48 Simon Boch was the only one to break the Olympic qualifying standard of 2:11:30 in Dresden. Behind him two more debutants took second and third: Belgium's Soufiane Bouchikhi ran 2:12:39 and Tom Hendrikse finished in 2:13:03.
"My goal was to run 2:09. However I could not have done any better in these conditions. It was extremely tough. Regarding the Olympics I now have to wait and see what happens in Hamburg," said Simon Boch, who currently sits in third position in the race for the three tickets to Japan.
In the women's race Polish runners Anna Bankowska and Aleksandra Brzezinska were on course to break the Olympic qualifying standard. Bankowska then moved ahead around the 25 k mark. But both women slowed. While they clocked personal bests of 2:31:16 and 2:34:24 respectively they missed the qualifying time of 2:29:30. Germany's Miriam Dattke had to withdraw at short notice due to a muscle injury.
Richard Ringer could be in a position to retake third spot in the German Olympic qualifying race when he will run the elite only marathon in Hamburg scheduled for 11th April. He won the half marathon which boosted a fine European field although Italy's Daniele Meucci had to cancel his start due to a cold. In a tight race with the first ten finishing within 32 seconds Ringer had the best finishing kick. He clocked a personal best of 61:33 to deny debutant Nils Voigt (61:35) and fellow German Amanal Petros. The German marathon record holder ran 61:37. Belgium's European Marathon Champion Koen Naert and Norway's Sondre Moen followed with 61:38 and 61:42. Apart from Moen all of the first ten clocked personal bets. "It is a pity that it was that cold. I tried to run a faster pace but when no-one followed it made no sense," said Richard Ringer who feels confident regarding the Hamburg Marathon. "My goal will be to run sub 2:10."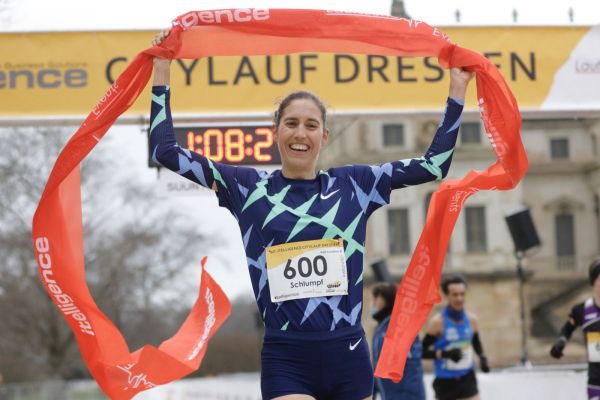 Defying the conditions Fabienne Schlumpf clocked a Swiss record, improving her own mark by eleven seconds. Preparing for her marathon debut in Bern on 3rd April she ran 68:27. Fabienne Schlumpf was well ahead of second placed German Domenika Mayer, who broke 70 minutes for the first time (69:52). Mekdes Woldu of Eritrea followed in third with 70:50.
"I am used to running in cold conditions so I was not too bothered by the weather. The race was perfectly organized and I had a great pacemaker," said Fabienne Schlumpf, who targets the Olympic marathon qualifying time next month. "Yes, in theory I should be able to run well below 2:29:30, however this is a marathon."
Targeting next month's Hamburg Marathon Germany's Katharina Steinruck won the 10 k race in a personal best of 31:59. She edged out Sweden's Sarah Lahti who was given the same time. Initially hoping to improve his own Dutch 10 k record of 28:08 and breaking 28 minutes Richard Douma abandoned these plans due to the freezing temperatures. He won a close race in 28:55 from Ilyas Osman of Somalia (28:56).
Top Results:
Marathon, Men:
1. Simon Boch GER 2:10:48
2. Soufiane Bouchikhi BEL 2:12:39
3. Tom Hendrikse NED 2:13:03
4. Patrik Wägeli SUI 2:13:13
5. Hlynur Andresson ISL 2:13:37
6. Hermamo Ferreira POR 2:13:57
Women:
1. Anna Bankowska POL 2:31:16
2. Aleksandra Brzezinska POL 2:34:24
3. Vaida Zusinaite-Nekriosiene LTU 2:36:58
4. Karen van Proeyen BEL 2:41:16
Half Marathon, Men:
1. Richard Ringer GER 61:33
2. Nils Voigt GER 61:35
3. Amanal Petros GER 61:37
4. Koen Naert BEL 61:38
5. Sondre Moen NOR 61:42
6. Bart van Nunen NED 61:47
7. Philimon Kipchumba KEN 61:47
8. Bernard Wambua KEN 61:55
9. Samuel Fitwi GER 61:56
10. Hendrik Pfeiffer GER 62:05
Women:
1. Fabienne Schlumpf SUI 68:27
2. Domenika Mayer GER 69:52
3. Mekdes Woldu ERI 70:50
4. Bojana Bjeljac CRO 71:15
5. Jasmijn Lau NED 72:08
6. Bo Ummels NED 72:13
7. Rabea Schöneborn GER 72:30
8. Blanka Dörfel GER 72:31
10 k, Men:
1. Richard Douma NED 28:55
2. Ilyas Osman SOM 28:56
3. Mohammad Reza SWE 29:04
4. Lander Tijtgat BEL 29:06
5. Marcel Fehr GER 29:11
Women:
1. Katharina Steinruck GER 31:59
2. Sarah Lahti SWE 31:59
3. Carolina Wikström SWE 32:42
4. Diane van Es NED 33:37
5. Eva Dieterich GER 33:51
More information is available at: www.laufszene-events.com
-->