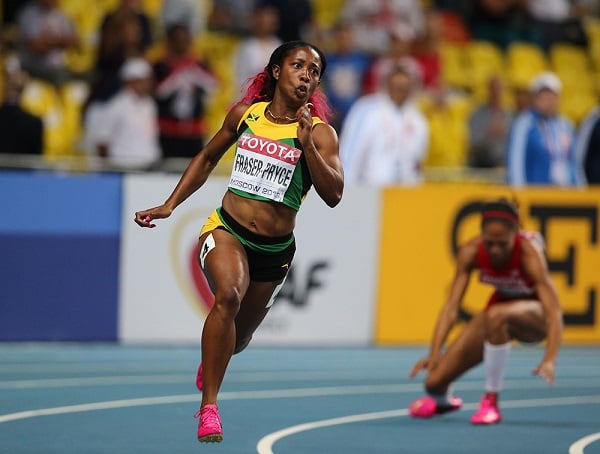 In 1968 Wyomia Tyus, a young girl who had grown up on a Dairy Farm, made history, by becoming the first Sprinter, male or female to ever win two gold medals in the 100m event. It was not until 1988 that Carl Lewis became the second sprinter ever, and 1996 that Gail Devers became the second female to pull off such a feat.
Two thousand and twelve, Shelly-Ann Fraser Pryce edged the second fastest woman in history to become the third female to accomplish this great feat. Even though that along with her 4 world titles in the event, the most by any single athlete, either male or female, she has an even bigger goal in mind. One that may deem her the undisputed goat of female sprinting.
The Goal for Pryce is to become the first ever female in history to win 3 100m Olympic titles. This certainly is a momentous task, which would not only rank him number one for females because she would then have more medal in the event at the Olympics than even Usain Bolt. Lest we forget her bronze medal in 2016, when she was far from her best.
Having sights set on that target is one thing, but achieving it is another. So how possible is it that Pryce is able to add another 100m gold to her legacy?
Well, it will be a tough one given the opponents she has to face, none may be a bigger threat than the reigning Olympic champion Elaine Thompson. We've seen where Thompson had a brilliant 2020 despite the pandemic, and as a bonus, she has her injury issues behind her. But while Thompson might be a threat, Pryce proved that she can actually defeat her at a major championship, having beaten her to claim her last world title in 2019.
The next threat may come from the world champion over 200m, who interestingly has the world lead in the 60m at the moment, running 7.08 at the Karlsruhe indoor meet. Dina also has a personal best of 10.83 which is a British National record. She looked superb in 2019, and this year it is no doubt that she might once again show that great form. However as great as she can be Pryce's experience at the Olympic games might come to her favour.
There is a lot of competition for the two time 100m Olympic champ, however, given her class over the years, it is hard not to believe that she could make history at the Olympic Games.
-->