Joshua Cheptegei Clocks new 10000m World Record with 26:11.02

Posted by:
Watch Athletics
Wednesday, 07 October 2020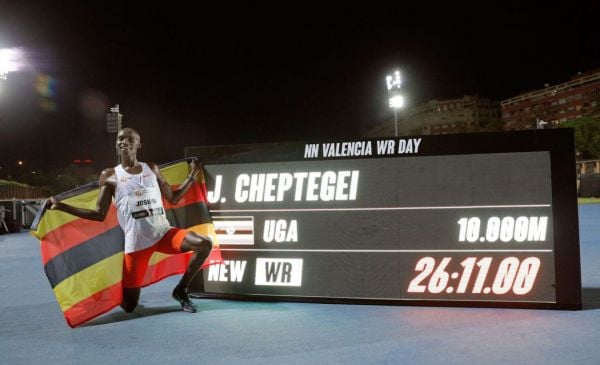 Uganda's Joshua Cheptegei broke the men's 10000m World record with an astonishing 26:11.02 in Valencia on Wednesday, October 7 at the NN Running Team Valencia World Record Day in Turia stadium.
Cheptegei smashed legendary Kenenisa Bekele's 10000m World record of 26:17.53 that has stood since 2005 by 6.53 seconds just 54 days after he had broken Bekele's 5000m World record at the Diamond League meeting in Monaco
"I wanted to live up to expectations so I'm happy to achieve my dream," said Cheptegei. "I was trying to remake history so that people will have something to enjoy. Sports lovers of the world can have something to remember," he added.
Cheptegei becomes the 10th man in history to hold the 5000m and 10,000m World records simultaneously.
Cheptegei's 1000m splits = 2:39, 2:37, 2:37, 2:37 2:38, 2:37, 2:37, 2:37, 2:37, 2:34.
Watch the whole 10000m World record race
-->