Letesenbet Gidey Smashes Women's 5000m World Record in Valencia

Posted by:
Watch Athletics
Wednesday, 07 October 2020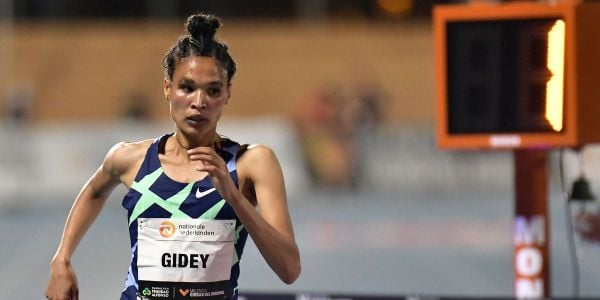 Letesenbet Gidey clocked a sensational 14:06.65 to break women's 5000m record at the NN Valencia World record day on Wednesday.
Gidey broke Tirunesh Dibaba's 12-year-old world record in the 5000m by 4.5 seconds clocking 14:06.65 with the help of Spain's Esther Guerrero, Kenya's 3000m steeplechase world champion and record holder Beatrice Chepkoech and wavelight pacing technology.
"I'm happy, I'm happy," Gidey said in an interview after the race. "This is a long time of the dream, I have been dreaming about this for six years" she added.
Gidey's 5000m world record splits:
200m = 33.9
400m splits = 68.8, 68.4, 69.3, 67.8, 68.5, 68.0, 67.0, 66.5, 67.1, 67.0, 67.0, 67.0
1000m splits = 2:51, 2:51, 2:49, 2:48, 2:47
Watch the whole race
-->