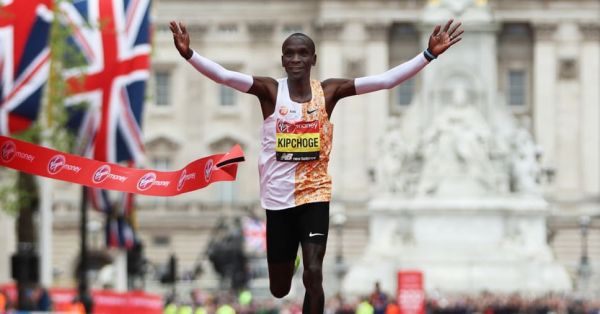 World marathon record holder Eliud Kipchoge grabs the headlines at the 40th edition of the Virgin Money London Marathon, a World Marathon Majors and World Athletics Platinum road race. Kenenisa Bekele has pulled out of the race due to a calf injury.
Kipchoge is aiming to become the first male or female athlete to win the London Marathon for the fifth time. Kipchoge won four editions of the big British race in 2015 (2:04:42), 2016 (2:03:05), 2018 (2:04:17) and 2019 (2:02:37). The Kenyan star is tied with Norwegian distance runner Ingrid Kristiansen, who clinched four London women's titles in 1984, 1985, 1987 and 1988.
Watch London Marathon live at 6:15 GMT.
Last year Kipchoge set the London race record for the second time in his career with 2:02:37 on the course from Greenwich to the Mall and won 11 of his 12 marathons race. In 2019 two men dipped under 2:03 in the same race for the first time in history.
The only race he lost was the Berlin Marathon in 2013 when he finished second to Wilson Kipsang in 2:04:05.
"I am feeling well and very happy to be back to run for my fifth title. I think the race will be a really a fruitful one for us on Sunday and a fast race. It will be great to be able to enjoy racing and bring some hope", said Kipchoge during the pre-event press conference.
Kipchoge admitted that it was not easy when he had to train alone during the pandemic.
"It was really difficult when I had to train on my own because for 17 years I have been training with 10-20 people all year round, so it was like an electric shock when I had to train on my own. It was hard to get fit and up to a high level of training, but lately, I had a bigger team around me and training has been good".
The men's elite field features seven runners with a sub-2:05 PB. Ethiopian runners Mosinet Geremew and Mule Wasihun finished second and third respectively behind Kipchoge in the 2019 London marathon. Geremew set his PB with 2:02:55 in the British capital and went on to win the world silver in Doha later last year. Wasihun also improved his PB with 2:03.16 in the British capital and finished third in last February's Ras Al Khaimah Half Marathon in 59:47.
The star-studded field also features four more runners with personal best times under 2:05: Sisay Lemma (third in Berlin 2019 in 2:03:36 and third in Tokyo last March with 2:04:51), 2016 Olympic 10000m bronze medallist and 2017 world marathon silver medallist Tamirat Tola (2:04:06 in Dubai 2018), Marius Kipserem (winner for the second time in his career in Rotterdam in 2019 in 2:04:11) and Shura Kitata (second in London 2018 with 2:04:49). The line-up is rounded out by Vincent Kipchumba, Amsterdam winner in 2019 in His 2:05:09 PB, Gideon Kipketer, second in Tokyo in 2017 and fifth at the World Championships in London 2017, Norway's Sondre Nordstad Moen, winner in Fukuoka in 2017 with a European record of 2:05:48, Italy's Daniele Meuuci, 2014 European champion and sixth at the 2017 World Championships in London, German record holder Arne Gabius (PB 2:08:33), Great Britain's Jared Ward (2:09:25) and Canada's Cameron Levins (third at the 2014 Commonwealth Games in the 10000m and a 2:09:25 performer in 2018).
Mo Farah will take part in this year's edition as a pacemaker for a group of British male runners, who will chase the Olympic qualifying standard of 2:11:30.
In the women's race world record holder Brigid Kosgei will be bidding to win the London Marathon for the second time in her career. The Kenyan star broke Paula Radcliffe's world record last year in Chicago with 2:14:04.
"Due to the pandemic I can't say that I will run "this" or "this" time because the coronavirus affected all of us. We did not a lot of training like last year", said Kosgei.
Kosgei will face reigning 5000m Olympic champion Vivian Cheruiyot and Doha 2019 world champion Ruth Chepngetich in a star-studded women's race. Cheruiyot won the 2018 London Marathon in 2:18:31 and finished second to Kosgei in last year's edition. Cheruiyot also finished second in New York in 2018 and won five world titles (5000m in Berlin 2009, 5000m and 10000m in Daegu 2011, 10000m in Beijing 2015 and cross country in Punta Umbria 2011).
Ruth Chepngetich will run for the first time in her career in London. The Kenyan runner set her PB with 2:17:08, the third fastest time in history.
The women's elite field will also feature 2019 Valencia marathon winner Roza Dereje (PB 2:18:30), Valary Jemely (winner in Frankfurt in 2019), Ashete Bekere (winner in Berlin in 2019 in 2:20:14) and Alemu Megertu (winner in Rome in 2019 and 2:21:10 performer), US Sarah Hall (PB 2:22:16 in 2019), Australia's Sinead Shiver (seventh in London with 2:24:11 in 2019) and Portugal's Carla Rocha (eighth in London 2018 with 2:24:47).
The race will take place over 19 laps of a closed-loop course around St. James's Park in central London and will be open to only elite runners. There will be no spectators along the course.
For live streaming and TV coverage see page here.
See the full list of elite athletes here.
-->