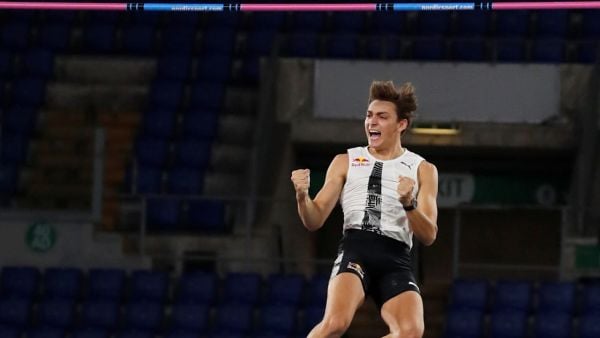 The men's pole vault, the women's 3000 metres and the women's 100 metres are the expected highlights at the Doha Wanda Diamond League meeting at the Qatar's Sports Club on Friday, September 25.
One year after the memorable edition of the World Athletics Championships in the Khalifa International Stadium athletics stars are set to return to the Qatari capital for the sixth and final leg of the shortened edition of the Wanda Diamond League.
Men's pole vault:
Armand "Mondo" Duplantis will be looking to end his dream season on a high note one week after breaking Sergey Bubka's world outdoor record with 6.15m in the Golden Gala Pietro Mennea in Rome. The 20-year-old Swede won all his 15 indoor and outdoor competitions in 2020 and cleared over 6 metres ten times, including all his five Diamond League competitions this summer (6.00m in Monaco, 6.01m in Stockholm, 6.07m in Lausanne, 6.00m in Brussels and 6.15m in Rome). Duplantis will face double world champion Sam Kendricks, 2012 Olympic champion Renaud Lavillenie, Ben Broeders (second in Rome with the Belgian record of 5.80m), Harry Coppell (British champion and national record holder with 5.85m) and US vaulters Cole Walsh (third in the Diamond League final in Zurich last year with 5.83m) and Matt Ludwig (PB 5.90m). Kendricks won the world title in Doha with 5.97m on a countback on Duplantis. The US pole vaulter cleared 6.02m on 2 September in the street event in Lausanne, but it was not enough to beat Duplantis, who cleared 6.07m. It was the first time in history that two pole vaulters have cleared at least 6.02m in the same competition.
Women's 3000 metres:
Double 5000m world champion Hellen Obiri will clash against world 3000m steeplechase champion and record holder Beatrice Chepkoech in a world class race, which features five medallists from four different disciplines at last year's Doha World Championships, including world 5000m silver medallist Margaret Chelimo Kipkemboi, two-time 10000m world bronze medallist Agnes Tirop and 1500m world bronze medallist Gudaf Tsegay, and other top runners like 2015 world 3000m steeplechase champion Hyvin Kyeng, 5000m world under 20 champion Beatrice Chebet, 1500m world under 20 indoor record holder Lemlem Hailu and British runners Elish McColgan, Laura Weightman and Melissa Courtney Bryant.
Men's 1500 metres:
The three medallists of the 3000m steeplechase world championships final in Doha 2019 Conseslus Kipruto, Lemecha Girma and Soufiane El Bakkali will run in the men's 1500 metres. Kipruto will run his first 1500m race in five years. Last year the Kenyan runner edged Girma in a thrilling world championships final by 0.01. Girma set his 1500m PB in Bellinzona with 3:35.67. El Bakkali won the 3000m steeplechase in Doha last year. This year the Moroccan runner set his 1500m PB with 3:34.51 in Marseille and his only 3000m steeplechase race in Monaco with 8:08.04. World 5000m silver medallist Selemon Barega will run his second 1500m race this year one week after setting his PB of 3:36.07 in Bellinzona. The young Ethiopian runner clocked the second fastest time in his career in the 5000m with 12:49.08 in Ostrava.
Men's 800 metres:
Reigning world 1500m champion and two-time Diamond League winner Timothy Cheruiyot will step down in distance and run the men's 800 metres with the goal to improve his PB of 1:43.11 set last year. Cheruiyot set the world seasonal best in the 1500m in Monaco with 3:28.45. The Kenyan star will face world 800m bronze medallist Ferguson Rotich (winner in Marseille, Chorzow and Rovereto meetings this year), US Bryce Hoppel (fourth in the 800m at the World Championships in Doha and second in Monaco this year with 1:43.23), world championships fifth placer Wesley Vazquez and 2016 European bronze medallist Elliot Giles from Great Britain.
Women's 800 metres:
Reigning Olympic 1500m champion Faith Kipyegon will run her first 800m race in five years with the goal to improve her PB of 1:58.05 set in Rieti in 2015. This summer Kipyegon won two 1000m races in Monaco with 2:29.15 (the second fastest time in history) and in Brusseles with 2:29.92 and the 1500m in Ostrava with 3:59.05. The Kenyan 26-year-old star will take on 2013 world 800m champion Eunice Sum and last year's world fourh placer Winnie Nanyondo.
Women's 100 metres:
Double Olympic champion Elaine Thompson Herah will run her second 100m race of this year's Diamond League season one week after winning in Rome with the world seasonal best of 10.85. The Jamaican sprinter won the 200m in Doha in 2017 in 22.19 and finished third in the 100m in 2018 behind Ivory Coast's Marie Josée Ta Lou, who won that race in 10.85. Ta Lou will also make her return to Doha, where she won the world championships bronze medal ahead of Thompson last year. The Ivorian sprinter set her seasonal best with 11.14 in Rome last week. The line-up also features 2018 US champion Aleia Hoobs, 2019 NCAA Finals second placer Kayla White from the USA, last year's 200m European Under 20 champion Amy Hunt and 2018 world under 20 bronze medallist Kristal Awuah from Great Britain.
Men's 110 hurdles:
Four of the best hurdlers in the last month line up in Doha. US Freddie Crittenden will face his compatriot Aaron Mallett, Frenchman Wlhlelm Belocian and Switzerland's Jason Joseph. Belocian has the fastest time among the entrants with his PB of 13.18 set in Monaco and won the French title with 13.20 in Albi. Crittenden won in Rovereto in 13.31 and finished second in Zagreb and third in Rome. Mallett won in Bellinzona in 13.34. Joseph set two Swiss records with 13.34 in Bern and 13.29 at the National Championships in Basel in 13.29.
Women's long jump:
Two medallists of last year's World Championships Maryna Beck Romanchuk from Ukraine and Eze Brume from Nigeria will renew their rivalry in Doha. Beck Romanchuk won in Stockolm with 6.85m and Berlin with 6.87m and won the World Indoor Tour last February. Brume has a PB of 7.05m set in 2019 and set an indoor PB of 6.82m in Lievin last February. Sweden's Khaddi Sagnia holds the best seasonal result among the entrants with her PB of 6.92m set in the Zagreb Continental Tour. The line-up is rounded out by US Taliyah Brooks (winner in Rovereto) and Serbia's Milica Gardasevic, European Under 20 champion in Grosseto 2017.
Men's 200 metres:
Ivory Coast's Arthur Cissé is set to continue his good period of form after winning two Continental Tour races in the 150m in Ostrava in 15.15 and in the 100m in Berlin in 10.10 and finishing second in the Rome Diamond League meeting in a seasonal best of 10.04. The African sprinter will face last year's World 4x100 relay champion Mike Rodgers, Olympic bronze medallist Christophe Lemaitre, Jamaica's Julian Forte (PB 19.97) and US Christopher Belcher (PB 20.01).
Women's 100m hurdles:
Jamaica's Yanique Thompson, a Brusselsworld under 18 gold medallist and world semifinalist in Doha last year, will face Great Britain's Cindy Ofili, fourth at the Olympic Games in Rio de Janeiro 2016, and US Payton Chadwick, third in Rome last week in 12.89.
Men's 400 metres:
Kuwait's Yousef Karam will return to Doha, where he won the Asian title in 44.84 last year. Karam finished second in Rome last week in 45.25. He will face 2019 NCAA champion Khamari Montgomery, Frenchman Ludy Vaillant (second in the 400m hurdles in Rome in 48.69), US 400m hurdles specialist David Kendziera and Great Britain's Rabah Yousif.
Live stream, start lists, schedule and results see page here.
-->