16th International Golden Roof Challenge - World Record and World Leading Performance in Innsbruck!

Posted by:
Watch Athletics
Monday, 07 September 2020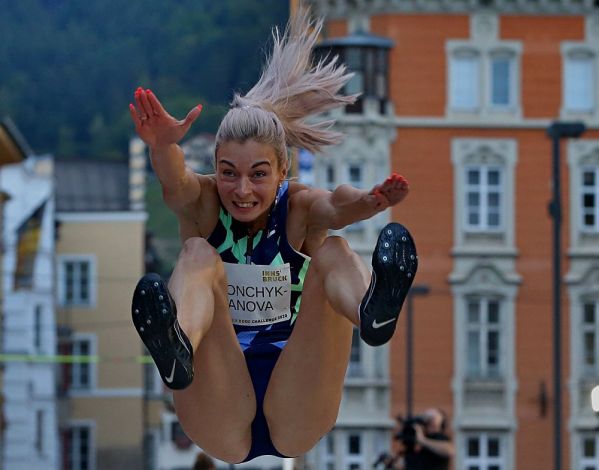 The Golden Fly Series once again lived up to expectations as the unique 16th International Golden Roof Challenge played out yesterday evening in Innsbruck!
The first jumps of the competition took place in perfect conditions and the long jump competition certainly brought fireworks ! A thrilling duel between two of the world's best women long jumpers brought a world leading performance of 6.94m by the Belarusian Nastassia Mironchyk-Ivanova! In doing so, she secured the "Nordkette Trophy" winning a bonus of 11.000€. Close behind Maryna Bekh-Romanchuk / UKR was second with 6.82m and third was Neja Filipic / SLO with 6.52 m.
The men's long jump also brought a Paralympic world record by the Greek "Double Blade Jumper" Stylianos Malakopoulos, who secured 6.93m in the T62 class! Two jumpers beat the magical 8-meter mark: Rushwal Samaai / RSA jumped 8.03m, just ahead of the Swiss No. 1 in the current decathlon world rankings Simon Ehammer who jumped the same distance, but a slightly shorter 2nd jump.
The women's pole vault was won by Lisa Ryzih / GER with 4.45m ahead of Fanny Smets / BEL and Amalie Svabikova / CZE, who shared 2nd place with 4.25 m.
As often happens in the mountains, the beginning of the men's pole vault saw a heavy thunderstorm causing the competition had to be interrupted. After a 30-minute break, the competitions continued before a second, even heavier storm finally caused the judges to end the competition. Nevertheless, appealing results were still achieved:
Matt Ludwig / USA and Menno Vloon / NED shared the win with 5.40 m ahead of Audie Wyatt / USA and Cole Walsh / USA - both with 5.30 m.
The competition played out this year on a new mobile sports facility "The FlySwat Multitrack" which was inaugurated at the event. It is the largest and most flexible mobile athletics facility in the world – which last night revealed its great potential. In the future, it will form the new heart of the Golden Fly Series.
All information: www.goldenroofchallenge.at
Pole vault video highlights
Long Jump Video highlights
-->