Mo Farah and Sifan Hassan Break one-hour World records

Posted by:
Watch Athletics
Friday, 04 September 2020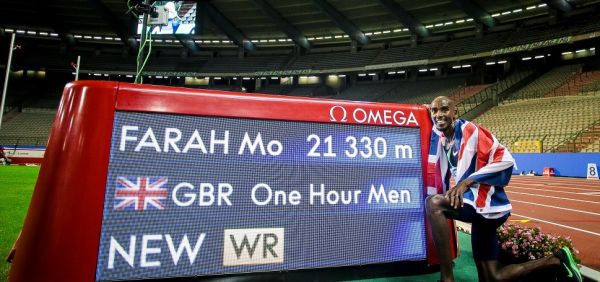 The 4-time Olympic champion, Mo Farah ran 21330m to break the men's one hour World record in Brussels Diamond League Memorial Van Damme on Friday, Sept. 4.
Farah surged past his training partner Bashir Abdi of Belgium with 60 seconds remaining to break legendary Haile Gebrasselassie's record by 45 meters.
"I'm very happy to break the world record today. What an amazing way to do it and to show people what is possible," Farah said. "I feel tired but it's nice to break a world record." the 37-year-old Farah added.
Abdi, who had a fantastic race, also went under the previous World record with 21.322m.
Men results
| | | | |
| --- | --- | --- | --- |
| 1 | Mo Farah | GBR | 21330 WR |
| 2 | ABDI Bashir | BEL | 21.322 NR |
| 3 | MILLÁN de la OLIVA Emil | SWE | 20.128 NR |
| 4 | ALI Mohamed | NED | 20.055 NR |
| 5 | ULAD Adbi Hakin | DEN | 19.985 NR |
| | CHOQUERT Benjamin | FRA | DNF |
| | DEBOGNIES Simon | BEL | DNF |
| | KETER Robert | KEN | DNF |
| | KIPROTICH Peter | KEN | DNF |
| | KIPTUM Kelvin | KEN | DNF |
| | SÁNCHEZ Alberto | ESP | DNF |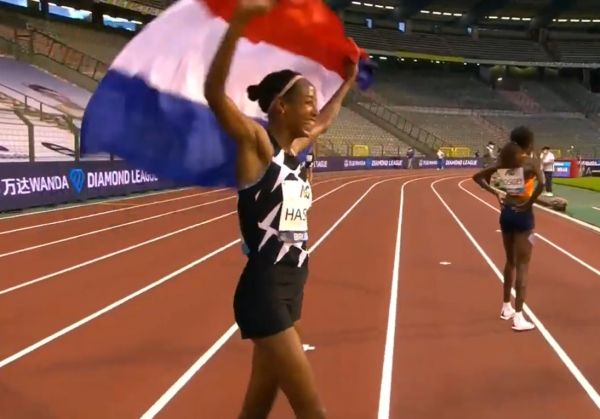 Netherlands Sifan Hassan broke the women's one hour World record with 18.930m at the Memorial van Damme, the Diamond League meeting in Brussels on Friday.
The World 1500m and 10000m champion, Hassan, in the final 30 seconds, with surged away from World marathon record holder Brigid Kosgei bettering the 12-year-old Dire Tune's (ETH) record by more than 400 meters.
"I didn´t feel good before the start of the race, I even puked. After thirty minutes of racing, I finally felt better. It was in the final twenty minutes that I gained the confidence I needed. When there were only two minutes left on the clock, the fun began. I just gave everything I had left. I am so happy with the win and the world record. It wasn´t easy. An average of almost 19km/h is hard if you have to keep the pace up for one hour. I want to thank the pacemaker because she did a really good job. In Monaco, I just wasn´t ready. With a few extra weeks of altitude training in my legs, I felt a lot stronger, but this result is still a surprise. I will race again in Ostrava next week." said Hassan.
Kosgei, who finished 50m behind Hassan in 2nd place, was disqualified for putting half a step outside the track.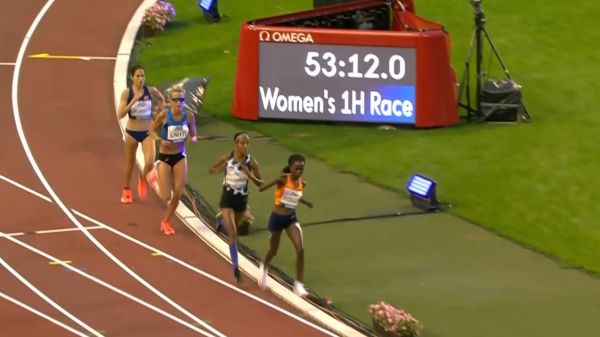 "I am happy about today because it was all about speedwork and my main goal is the London Marathon. That´s why I didn´t want to push too hard. I was afraid to get injured. I felt Sifan in my back but didn´t want to run faster with the upcoming marathon. I have definitely more in me then what I showed today. I don´t have a specific time in my head for London, but I hope that I can show the world what I´m capable of." Kosgei told a reporter before she was disqualified.
Women's Results
| | | | |
| --- | --- | --- | --- |
| 1 | HASSAN Sifan | NED | 18.930 WR |
| 2 | SALPETER Lonah Chemtai | ISR | 18.571 |
| 3 | CHERONO Eva | KEN | 18.341 AR |
| 4 | BEKELE Helen | ETH | 17.974 NR |
| 5 | LAHTI Sarah | SWE | 17.955 |
| 6 | GALIMANY Marta | ESP | 17.546 NR PB |
| 7 | AMEBAW Likina | ETH | 17.323 |
| 8 | LAUWAERT Nina | BEL | 17.315 NR |
| 9 | LOYO Elena | ESP | 16.935 |
| 10 | CHELANGAT Sheila (PM) | KEN | DNF |
| 11 | VANDENBUSSCHE Hanna (PM) | BEL | DNF |
| | KOSGEI Brigid | KEN | DQ TR 17.3.2 |
-->