Duplantis sets new Diamond League record with 6.07m in Lausanne

Posted by:
Watch Athletics
Wednesday, 02 September 2020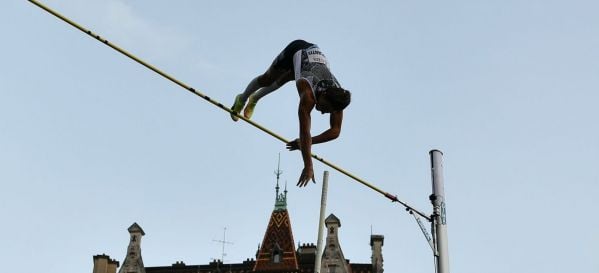 World record-holder Armand Duplantis set a new Diamond League record and a new outdoor personal best at the Athletissima street pole vault meeting in the city center of Lausanne on Tuesday (2).
The 20-year-old Swede produced a massive first-time clearance at 6.07m. He then moved the bar at 6.15m, a new World outdoor record hight, but after he failed on his first try Duplantis decided to stop simply because there was not enough daylight.
The reigning World champion Sam Kendricks of the United States was second in a new season's best of 6.02m. The Olympic champion Thiago Braz and former World champion Renaud Lavillenie also produced their season-best marks of 5.72m to take 3rd and 4th respectively.
"It was a fantastic evening. The conditions, crowd, competition it was all fabulous. In the end it got too dark to go for 6.15 and I felt it was unsafe to continue any further." Said Duplantis. "Sam is a fabulous competitor, and I feel we bring the best out of each other. We kept pushing each other and you can see the result. It reminded me a bit of the Garden Challenge, we kept going after the next height. It was quick. I loved it. I felt I was in the zone. But you have to be prudent. You can see a lot of us are getting back to our best shape - Renaud was good, Thiago is getting back there. We could be looking at some great pole vaulting in what is left of this season." Said Duplantis.
Men's pole vault
| | | | |
| --- | --- | --- | --- |
| 1 | SWE | DUPLANTIS Armand | 6.07 WL DLR PB |
| 2 | USA | KENDRICKS Sam | 6.02 SB |
| 3 | BRA | BRAZ Thiago | 5.72 SB |
| 4 | FRA | LAVILLENIE Renaud | 5.72 SB |
| 5 | USA | WALSH Cole | 5.62 |
| 6 | FRA | COLLET Thibaut | 5.62 PB |
| 7 | USA | NILSEN Christopher | 5.62 |
| 8 | POL | WOJCIECHOWSKI Pawel | 5.62 SB |
| 9 | ITA | STECCHI Claudio Michel | 5.52 SB |
Women's pole vault
| | | | |
| --- | --- | --- | --- |
| 1 | SWE | BENGTSSON Angelica | 4.72 SB |
| 2 | GBR | BRADSHAW Holly | 4.64 |
| 3 | SUI | MOSER Angelica | 4.64 PB |
| 4 | SWE | MEIJER Michaela | 4.64 |
| 5 | FRA | LOTOUT Marion | 4.54 SB |
| 6 | SUI | HODEL Andrina | 4.34 |
| 6 | VEN | PEINADO Robeilys | 4.34 |
| 8 | CZE | MALÁCOVÁ Romana | 4.17 |
| | SLO | SUTEJ Tina | NM |
-->