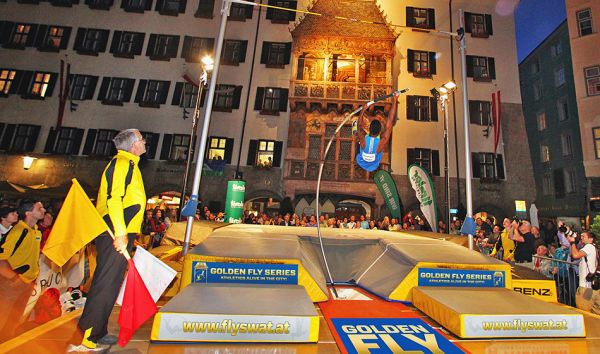 Despite the special circumstances this year and postponing the event to September some of the world's best long jumpers and pole vaulters are once again meeting at the Golden Roof Challenge in Innsbruck.
In the men's long jump competition three of the athletes, Markus Rehm (GER), Rushwal Samaai (RSA) and Tomasz Jaszczuk (POL), got personal bests over 8 meters. In the women's contest, we can expect a close battle between 2020 World leader 6.93m Nastassia Mironchyk-Invanova (BLR) , the 2nd best jumper this year 6.85m Maryna Bekh-Romanchuk (UKR) and local hero Verena Preiner from Austria.
The women's pole vault will see a thrilling duell between the Slovenian Tina Sutej, the 5th best vaulter this year in the world, and Germany's Lisa Ryzih, both laying with their personal best performance at 4.75 meters.
In the men's pole vault Kostantinos Filippidis from Greece (personal best: 5.91m), Matt Ludwig from the USA (PB: 5.90m) and Menno Vloon from the Netherlands (PB: 5.85m) are the three favorites and most hopeful contenders.
Who will claim the traditional Golden Roof Challenge titles in the end? The answer will be found in the Livestream on Saturday, starting from 5.45pm on.
For live streaming and other essential meet info see page here.
More information on Golden Roof Challenge go here.
Watch long jump highlights from the 2019 edition
Watch pole vault highlights from 2019 event
-->