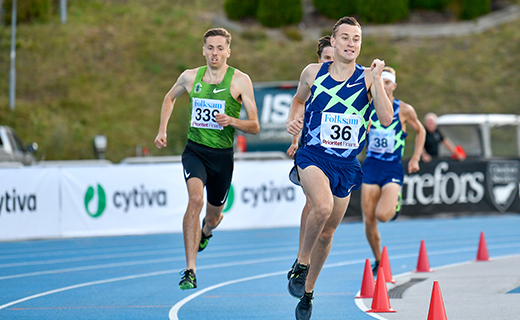 Kalle Berglund in his season debut broke the 45-year-old Swedish 2000m record at the Folkasm Grand Prix in Sollentuna on Monday (10).
Berglund, who set the national1500m record at 2019 World Athletics Championships in Doha, clocked 4:59.71 to break Anders Gännerud's 45-year-old (5:02.09) record. Berglund split 60.7, 61.2, 60.9, 60.4, and sealed the race with a very strong 56.4 final lap to secure the win and to break the record. Berglund will return to racing on Friday at Diamond League in Monaco.
Andreas Almgren (SWE) also went below the old record with 5:00.23 to finish 2nd while Scottish runner Neil Gourley took third with 5:00.73.
The men's 800 Andreas Kramer almost broke his own Swedish record with 1:45.05, missing the record by only 0.02 seconds. Three British runners, who finished behind Kramer went inside 1:46; Elliot Giles (1:45.46), Jake Wightman (1:45.56), and 4th place finisher Daniel Rowden (1:45.55).
The women's 800m race won Spanish runner Esther Guerrero who clocked a new personal best of 2:00.56.
Italian shot putter Leonardo Fabbri won the men's shot put with a new PB 21.57.
Sweden's Thobias Montler prevailed in the men's long jump with a leap of 8.05m (W+2.5m/s). His best wind-legal mark was 8.03m.
In the men's discus throw, reigning world champion, Daniel Stahl of Sweden threw a huge 71.37m World lead for the win. At first, his mark was disqualified because he supposedly stepped with a heel outside the ring. But Stahl challenged meet officials and moments later after reviewing the throw, his mark was reinstated.
Erika Kinsey cleared 1.92m to win the women's high jump while Angelica Bengtsson won the women's pole vault with 4.65m.