Kenya's Evans Kiplagat Chebet took the 2019 Buenos Aires Marathon title in a new course record time.
Kenyans dominated the Buenos Aires Marathon (IAAF Bronze Label Road Race) by capturing the first four places in the men's race and first and third place the women's race. 
Evans Chebet won the men's marathon race in a new course record and lifetime best of 2:05:02. He shaved 18 seconds off from the old course record set by compatriot Saina Kipkemboi last year and 28 seconds from his personal best he set two years ago in Valencia. 
Uknown runner Reuben Kipop Kipyego took second place with an impressive time of 2:05:20. In the third place finished Daniel Kipkore Kibet with a time of 2:06:55 as Allan Kipkorir Kiprono with 2:10:14) finished in 4th place.
The 31-year-old Chebet, who led the most of the second half of the race, clocked an impressive 10km time of 28:46 between 25km and 35km. Many runners in Buenos Aires produced faster times in the second half than in the first part of the race.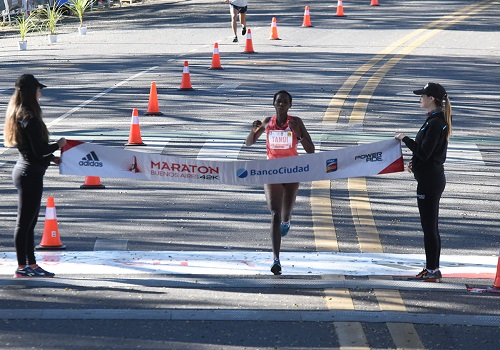 Rodah Jepkorir Tanui of Kenya clocked 2:25:47 to win the women's marathon. Ethiopian Demissie Gadise Mulu crossed the line in 2:30:35 for the second place while Kenya's Faith Jeruto Chemaoi concluded the podium with the time of 2:32:54.
TOP MEN
 1. Evans Kiplagat Chebet, KEN 2:05:00 PB/ACR/CR*
 2. Reuben Kiprop Kipyego, KEN 2:05:18 PB
 3. Daniel Kipkore Kibet, KEN 2:06:52
 4. Allan Kipkorir Kiprono, KEN 2:10:11
 5. Derlys Ayala, PAR 2:10:27 NR SAm Ch
 6. Joaquin Arbe, ARG 2:11:02 PB
 7. Eulalio Muñoz, ARG 2:12:21 PB
 8. Godfrei Kipkoge Kosgei, KEN 2:13:16
 9. Ulises Ambrocio, PER 2:15:46
10. Yauri Condorhuaman, PER 2:16:18
11. Martin Mendez, ARG 2:16:44
12. Luis Alberto Orta, VEN 2:18:02
13. Andres Ruiz, COL 2:18:14
14. Nelson Ito, PER 2:18:17
15. Jose David Cardona, COL 2:18:20
16. Manuel Cabrera, CHI 2:18:35
17. Pedro Luis Gomez, ARG 2:19:13
18. Martin Cuestas, URU 2:19:22
19. David Kemboi Kiyeng, KEN 2:21:04
20. Antonio Jesus Poblete, ARG 2:22:42
TOP WOMEN
 1. Rodah Jepkorir Tanui, KEN 2:25:46 PB/CR*
 2. Demissie Gadise Mulu, ETH 2:30:31
 3. Faith Jeruto Chemaoi, KEN 2:32:48
 4. Leah Jerotich, KEN 2:33:42
 5. Daiana Ocampo, ARG 2:34:12 PB SAm Ch
 6. Marcela Gomez, ARG 2:34:52 PB
 7. Simone Ferraz, BRA 2:38:10 PB
 8. Silvia Paredes, COL 2:40:56 PB
 9. Carmen Paticia Martinez, PAR 2:41:47
10. Veronica Angel, CHI 2:41:54
11. Silvia Ortiz, COL 2:42:51
12. Diana Landi, COL 2:45:38
13. Mariela Ortiz, ARG 2:46:13
14. Olga Barrios, ARG 2:47:49
15. Maria de los Angeles Peralta, ARG 2:47:52
16. Zenaide Vieira, BRA 2:48:21
17. Lorena Sosa, URU 2:51:47
18. Fatima Romero, PAR 2:53:51