The Athletics Integrity Unit (AIU) provisionally suspended Kenyan born Bahraini runner Eunice Kirwa, the 2016 Rio Olympics silver medalist in the women's marathon, after she the tested positive for blood booster Erythropoietin (EPO).
Last year in February the 2016 Olympic marathon champion Jemima Sumgong also tested positive for EPO meaning that 1st and 2nd place finishers in the Rio Olympics women's marathon were drug cheats. The AIU banned Sumgong from sports for eight years. Sumgong was initially banned for four years but appealed the suspension and then lied at her doping hearing.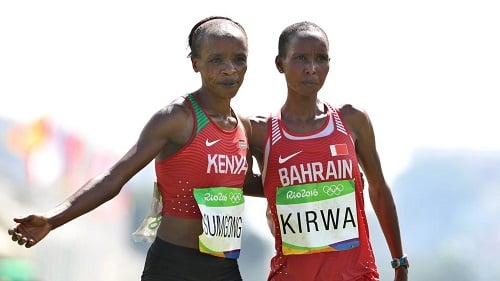 Kirwa and Sumgong will keep their Olympic medals becasue their positive tests came after the 2016 Olympic games.
The 35-year-old Kirwa, who holds personal bests of 66:46 in the half marathon and 2:21:17 in the marathon, is the wife of Joshua Kemei, the coach of Abraham Kiptum, the half marathon world record holder from Kenya, who last month was suspended for doping by AIU.
-->