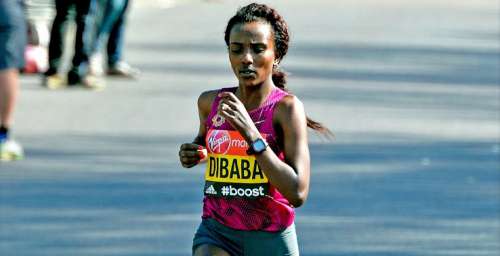 The strongest women's field in the history of the BMW BERLIN-MARATHON will line up for the 45th edition on Sunday, including perhaps the greatest female long-distance runner of all time, Tirunesh Dibaba. Among the Ethiopian's rivals will be last year's winner, Kenya's Gladys Cherono and her compatriot Edna Kiplagat, a double World champion. Four women will be competing who have run under 2:20 which remains the major yardstick of excellence for the women's marathon. It is clearly the strongest women's field ever assembled in the German-speaking world.
As a reflection of the race's international attraction, 133 countries will be represented among the 44,389 participants. This is a record entry figure. The BMW BERLIN-MARATHON is an IAAF Gold Label Road Race and part of the Abbott World Marathon Majors Series (AWMM) which also comprises Tokyo, Boston, London, Chicago, and New York. The new series, the 12th edition, of the AWMM begins in Berlin on Sunday and will also conclude with the 46th edition of the BMW BERLIN-MARATHON next September.
"I've heard a lot about the BMW BERLIN-MARATHON and did my research. I know very well that the course is very fast," said Tirunesh Dibaba, whose illustrious career includes three Olympic titles for 5 and 10,000m, nine world titles in all. And she still holds the world record for 5,000m on the track. "Switching to the marathon wasn't a problem for me," said the 33-year-old, whose best of 2:17:56 is the third fastest marathon ever by a woman. "I improved my training in preparation for Berlin and did more volume. I am very well prepared and want to beat my best time on Sunday," explained the Ethiopian, while some believe she is capable of getting close to the world record of 2:15:25, set by Britain's Paula Radcliffe 15 years ago.
Berlin will mark the fourth marathon of Tirunesh Dibaba's career. None of her previous races had pacemakers specifically for her benefit but this will not be the case on Sunday. "Pacemakers are very important for a fast time," said Dibaba who appeared at the press conference with fingernails painted silver. Asked if silver wasn't the color for the runner-up, Dibaba laughed and replied: "Not on Sunday, then silver will be the winning color!"
The course record, which has stood for 13 years, is likely to fall on Sunday, given good weather conditions. In 2005 Japan's Olympic champion Mizuki Noguchi ran 2:19:12 in Berlin which not only broke the course record but set an Asian record and remains so to this day. "I expect that one woman will take the lead from the start and behind her, a group will form which would be on course to break 2:20," said the race director Mark Milde. There was no mistake the runner he was referring to: Tirunesh Dibaba.
Dibaba's strongest rivals are from Kenya. Gladys Cherono won the title last year, running 2:20:23 and her best is the 2:19:25 set in winning the first of her two Berlin titles in 2015. "I want to break my personal best on Sunday," said Cherono. Her compatriot Edna Kiplagat has been one of the marathon elite for many years. "It has always been my goal to run in Berlin. I know the course is fast and shall try to run my best ever time," said Kiplagat, whose lifetime best is 2:19:50 and has twice won the World title (2011 and 2013).
The fourth runner with a sub-2:20 time is Dibaba's fellow Ethiopian is Aselefech Mergia (2:19:31). While Mergia could not match these sort of results in her recent races two other runners could do very well on Sunday: Ethiopia's Ruti Aga was last year's runner-up when she clocked a PB or 2:20:41. Japan's Mizuki Matsuda ran a brilliant marathon debut in January, winning in Osaka with 2:22:44.
Elite runners with personal bests
Tirunesh Dibaba ETH 2:17:56
Gladys Cherono KEN 2:19:25
Aselefech Mergia ETH 2:19:31
Edna Kiplagat KEN 2:19:50
Ruti Aga ETH 2:20:41
Mizuki Matsuda JPN 2:22:44
Rei Ohara JPN 2:23:20
Honami Maeda JPN 2:23:48
Andrea Deelstra NED 2:26:46
Inés Melchor PER 2:26:48
Carla Rocha POR 2:27:08
Caterina Ribeiro POR 2:30:10
Ines Montero POR 2:30:36
Rachel Hannah CAN 2:32:09
Anke Esser GER 2:43:14
Miyuki Uehara JPN Debüt
More information is available online at: www.berlin-marathon.com
-->