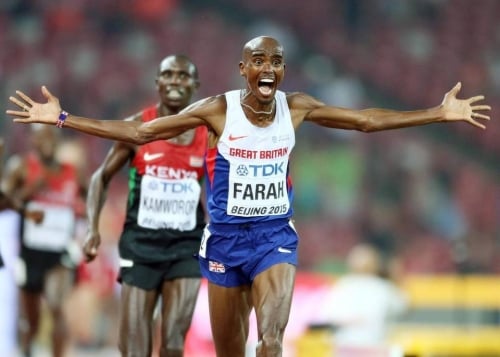 Worlds one of the most decorated distance runners of all time, Mo Harah, will attempt to collect his 6th global title as the 2017 IAAF Wolrd Athletics championships kicks off in London on Friday, July 4th. 
The highlight event on Friday night in London will be the men's 10000m race where the local star athlete, Mo Farah, will try to defend his World championships title. 
On Friday night, the 33-year-old Farah will attempt to win his 6th World championships title in the same stadium where he five years ago infront of 80,000 spectators became the first British man since Albert Hill in 1924 to win two Olympic track and field titles at the same Games.
If Farah succeeds in the 10000m race on Friday, he will become the most decorated distance runner in history. The legendary Ethiopian distance runner Kenenisa Bekele, whis is current world record holder in the 5000m and 10000m, is tied with Farah with five global titles. 
With his 27:12.09 season's best time, Farah sits in the third position in 2017 world rankings behind Ethiopians Abadi Hadis (SB 27:08.26) and Jemal Yimer (SB 27:09.08). 
For the last five years there has been several race tactics applied by Ethipians, Kenyans and others to defeat Farah, however all the efforts to take down Farah from his global crown have failed. 
The men's 10000m is scheduled for Friday, Aug 4 at 21:20 local time.
Friday full schedule (Times BST) | See full time table here
9:00 M 100 Metres Preliminary Round
19:20 M Discus Throw Qualification Group A
19:30 M Long Jump Qualification
19:35 W 1500 Metres Heats
19:45 W Pole Vault Qualification
20:20 M 100 Metres Heats
20:45 M Discus Throw Qualification Group B
21:20 M 10,000 Metres Final