• Chicago Marathon Preview
» Tuesday, 02 October 2012
Article source: Athletics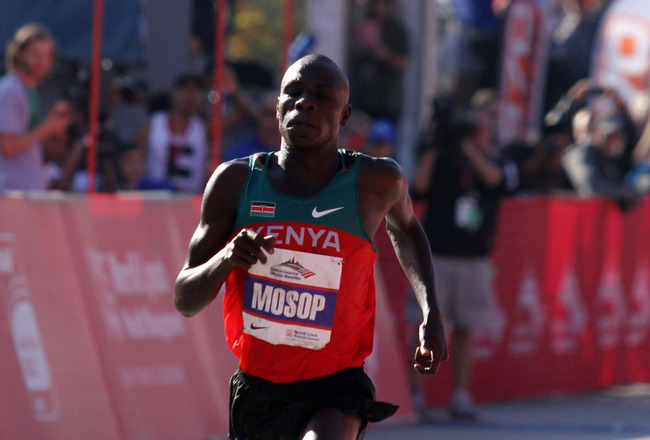 The Bank of America Chicago Marathon announced its full elite athlete field for the event's 35th running on October 7.
Ethiopia's Tsegaye Kebede tops a stacked roster of athletes hungry for a breakthrough performance on Chicago's international stage, while the women's field welcomes, among others, Werknesh Kidane of Ethiopia, coming off a fourth-place finish in the 10,000-meter race at the London Olympics. These athletes join previously announced 2012 Boston Marathon champion and Chicago runner-up Wesley Korir of Kenya, three-time U.S. Olympian Dathan Ritzenhein, and three-time defending champion Liliya Shobukhova of Russia.
Kebede returns to Chicago after a memorable duel against the late Sammy Wanjiru at the 2010 race.Olympic champion's brief but spectacular period of dominance in the sport, Kebede, the 2008 Olympic bronze medalist, was Wanjiru's most famous opponent, with the 2010 Chicago Marathon being the pinnacle of their rivalry. He'll be joined by countrymen Feyisa Lilesa, the 2011 World Championship bronze medalist; 2:05 performers Dadi Yami and Shami Dawit; 2012 Paris Marathon runner-up Raji Assefa; and Tilahun Regassa in his highly anticipated debut.
Kenya's Levy Matebo is the fastest entrant in the field, with a 2:05:16 performance at the 2011 Frankfurt Marathon. He'll challenge fellow Kenyan Wesley Korir, who came from behind to steal victory away from him at the 2012 Boston Marathon. The Kenyan contingent also includes 2012 Tokyo Marathon champion Michael Kipyego, 2011 Chicago Marathon runner-up Bernard Kipyego, 2011 Amsterdam Marathon runner-up Laban Korir, 2012 Lake Biwa Marathon champion Samuel Ndungu, and Sammy Kitwara, the fifth-fastest half marathon performer of all time.
2012 Elite Field

Men
Name
Levy Matebo
Tsegaye Kebede
Feyisa Lilesa
Dadi Yami
Shami Dawit
Laban Korir
Wesley Korir
Raji Assefa
Bernard Kipyego
Michael Kipyego
Samuel Ndungu
Takeshi Horiguchi
Dathan Ritzenhein
Takeshi Kumamoto
Yuki Moriwaki
Hiroki Kadota
Naoki Okamoto
Jimmy Grabow
Koji Kobayashi
Jeffrey Eggleston
Jason Gutierrez
Patrick Rizzo
Patrick Smyth
William Naranjo
Craig Leon
Diego Colorado
Malcolm Richards
Tim Tollefson
Thomas Frazer
Carlos Trujillo
Sammy Kitwara
Tilahun Regassa




Country
KEN
ETH
ETH
ETH
ETH
KEN
KEN
ETH
KEN
KEN
KEN
JPN
USA
JPN
JPN
JPN
JPN
USA
JPN
USA
COL
USA
USA
COL
USA
COL
USA
USA
IRL
USA
KEN
ETH




Personal Best
2:05:16
2:05:18
2:05:23
2:05:41
2:05:42
2:06:05
2:06:15
2:06:24
2:06:29
2:06:48
2:07:04
2:09:16
2:09:55
2:10:13
2:11:52
2:12:25
2:12:31
2:12:35
2:12:52
2:13:12
2:13:24
2:13:42
2:15:00
2:15:39
2:15:42
2:16:45
2:17:29
2:18:26
2:19:42
2:20:56
58:48 (half marathon)
59:19 (half marathon)


Women
Name
Liliya Shobukhova
Lucy Kabuu
Atsede Baysa
Ejegayehu Dibaba
Merima Mohammed
Rita Jeptoo
Maria Konovalova
Caroline Rotich
Werknesh Kidane
Belainesh Gebre
Laurie Knowles
Devon Crosby-Helms
Lindsay Tollefson
Deanna Ardrey
Addie Bracy
Renee Metivier Baille
Stephanie Pezzullo


Country
RUS
KEN
ETH
ETH
ETH
KEN
RUS
KEN
ETH
ETH
USA
USA
USA
USA
USA
USA
USA


Personal Best
2:18:20
2:19:34
2:22:04
2:22:09
2:23:24
2:23:38
2:23:50
2:24:26
2:26:15
2:26:17
2:38:09
2:38:50
2:43:00
2:43:12
2:44:34
1:11:51 (half marathon)
1:13:12 (half marathon)
More info about Chicago marathon:
http://www.chicagomarathon.com
Image Source:http://cdn.bleacherreport.net