Event info - results, entries and how to follow live the NCAA South Cross Country Regional Championships.
The 2023 South Regional Championships will be held at the Mark Bostick Golf Course in Gainesville, Fla. on Friday, November 10, hosted by the University of Florida Track and Field/Cross Country program. The event will start with the women's 6k race at 10:30 AM US Central time, followed by the men's 10k race at 11:30 AM CT.
HOW TO WATCH AND FOLLOW THE SOUTH CROSS COUNTRY REGIONAL:
South Cross Country Regional Championships will be streamed live on Facebook for free worldwide. The live broadcast is scheduled to start at 10:00 AM US Central time.
You can stay up-to-date with the South Regionals by accessing the live results page. Additionally, you can also follow the NCAA social media platforms, including X (Twitter) and Facebook, for the latest updates on the event. These platforms will provide you with real-time information and keep you informed about the ongoing activities and results.
ENTRY LISTS
COURSE MAPS:
Women 6km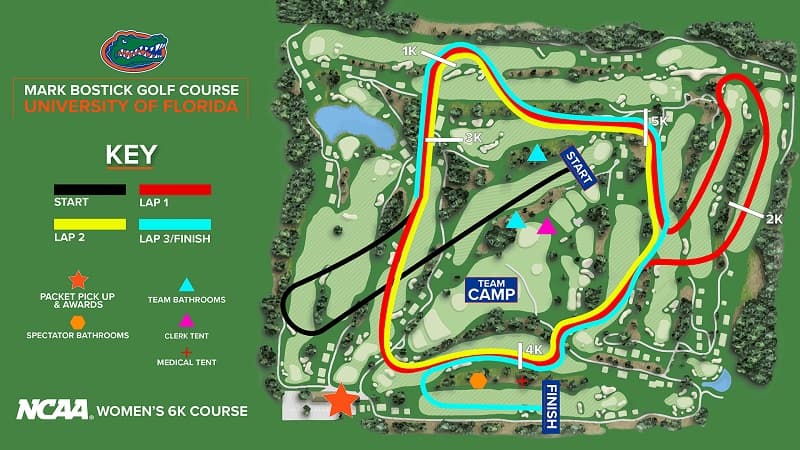 Men 10km:
QUALIFICATION FOR NCAA D1 CHAMPIOSNHIPS:
After the completion of the regional competitions, the top two teams from each of the nine regions secure their spots in the championships. This means that a total of 18 teams automatically qualify for the NCAA DI Cross Country Championships.
However, the field is not complete yet. The NCAA DI Cross Country Subcommittee has the responsibility of selecting 13 additional teams to fill out the remaining places in the 31 team field. These teams are referred to as "at-large" selections.
The criterion for choosing these at-large teams primarily relies on their performance at the regional competitions. The teams that finish in third and fourth place at their respective regionals are considered the most likely candidates to be selected as at-large teams.