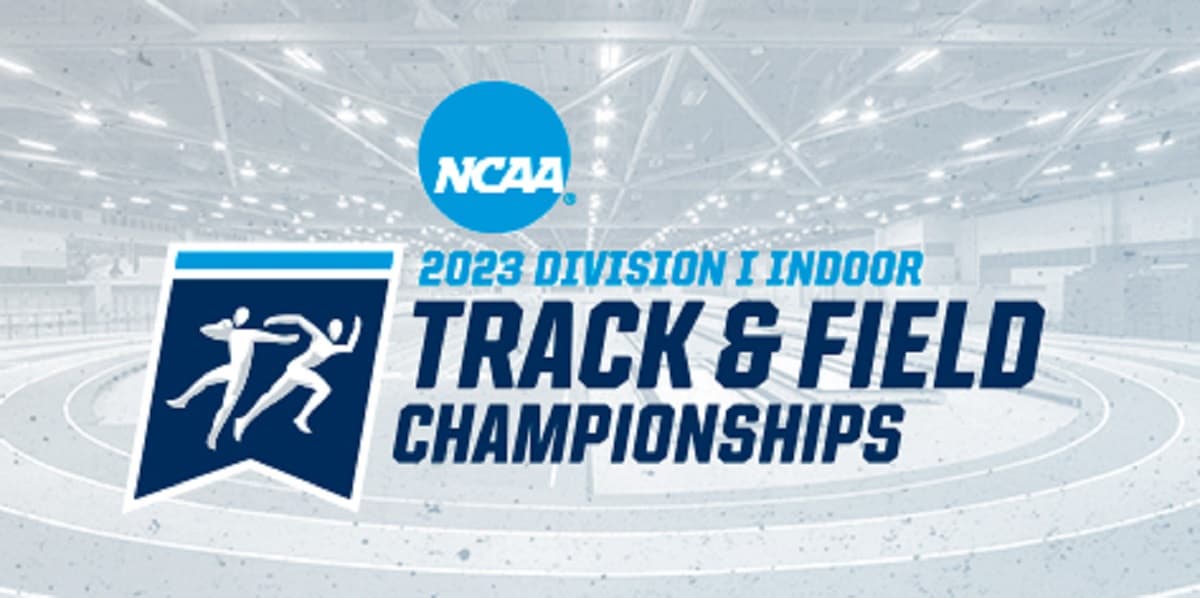 Team Scores for the 2023 NCAA D1 Indoor Track and Field Championships.
Event Date: March 10 to 11
Location: Albuquerque, New Mexico
NCAA D1 Indoor Championships Live Stream
The Arkansas Razorbacks won the 2023 NCAA Division 1 indoor championship to become the first track and field program since Oregon in 2016 to claim both the men's and women's indoor titles in the same season. The Razorbacks men used three first-place finishes to clinch the title with 63 points. The women's team won the NCAA national championship with 64 points.
Arkansas men won their 21st NCAA Indoor championship and 42nd overall, while women claimed their fourth NCAA Indoor team title and seventh overall in the program's history.
TEAM RESULTS
| POS | Women [17 out of 17 scored] | Pts |
| --- | --- | --- |
| 1 | Arkansas | 64 |
| 2 | Texas | 60 |
| 3 | Florida | 45 |
| 4 | Stanford | 33 |
| 5 | Georgia | 31 |
| 6 | NC State | 29 |
| 7 | Alabama | 24 |
| 7 | Notre Dame | 24 |
| 7 | Tennessee | 24 |
| 10 | Ole Miss | 23 |
| 11 | LSU | 22 |
| 11 | Oregon | 22 |
| 13 | USC | 19 |
| 14 | Nebraska | 17 |
| 14 | Texas A&M | 17 |
| 16 | Oklahoma | 14 |
| 17 | Kentucky | 12 |
| 18 | Minnesota | 11 |
| 18 | Ohio State | 11 |
| 20 | Illinois | 10 |
| 21 | Utah | 9 |
| 21 | Wisconsin | 9 |
| 21 | Oklahoma State | 9 |
| 24 | Washington | 8 |
| 24 | BYU | 8 |
| 24 | Kansas | 8 |
| 24 | Texas Tech | 8 |
| 28 | Virginia Tech | 7 |
| 28 | South Dakota | 7 |
| 30 | UNLV | 6 |
| 31 | Virginia | 5 |
| 31 | Harvard | 5 |
| 31 | UCLA | 5 |
| 34 | Ball State | 4 |
| 34 | Clemson | 4 |
| 34 | Georgetown | 4 |
| 34 | Kennesaw State | 4 |
| 38 | Vanderbilt | 3 |
| 38 | West Virginia | 3 |
| 38 | Michigan | 3 |
| 38 | Missouri | 3 |
| 38 | Syracuse | 3 |
| 43 | Arizona | 2 |
| 43 | Bradley | 2 |
| 43 | Duke | 2 |
| 43 | High Point | 2 |
| 43 | Louisville | 2 |
| 43 | New Mexico | 2 |
| 43 | Rice | 2 |
| 43 | San Jose St. | 2 |
| 43 | South Carolina | 2 |
| 43 | Stephen F. Austin | 2 |
| 43 | Tulane | 2 |
| 54 | Auburn | 1 |
| 54 | Northern Arizona | 1 |
| 54 | Pittsburgh | 1 |
| - | UTSA | 0 |
| - | Washington St. | 0 |
| - | Western Kentucky | 0 |
| - | Abilene Christian | 0 |
| - | Baylor | 0 |
| - | Boise State | 0 |
| - | Boston College | 0 |
| - | California | 0 |
| - | Cincinnati | 0 |
| - | Coastal Carolina | 0 |
| - | Colorado | 0 |
| - | Colorado St. | 0 |
| - | Florida State | 0 |
| - | Georgia Tech | 0 |
| - | Houston | 0 |
| - | Indiana | 0 |
| - | Iowa | 0 |
| - | Miami (Fla.) | 0 |
| - | Mid. Tenn. State | 0 |
| - | Miss State | 0 |
| - | Montana State | 0 |
| - | North Texas | 0 |
| - | Oregon State | 0 |
| - | Penn | 0 |
| - | Portland | 0 |
| - | Rutgers | 0 |
| - | San Diego St. | 0 |
| - | San Francisco | 0 |
| - | South Florida | 0 |
| - | Southern Illinois | 0 |
| - | TCU | 0 |
| - | Tennessee St. | 0 |
| - | UCF | 0 |
| - | UMass Lowell | 0 |
| POS | Men [17 out of 17 scored] | Pts |
| --- | --- | --- |
| 1 | Arkansas | 63 |
| 2 | Georgia | 40 |
| 3 | Florida | 34 |
| 4 | Washington | 31 |
| 5 | Texas Tech | 29 |
| 6 | Oklahoma State | 25 |
| 6 | Texas | 25 |
| 8 | Nebraska | 24.75 |
| 9 | Alabama | 19 |
| 9 | Northern Arizona | 19 |
| 11 | Tennessee | 18 |
| 12 | BYU | 17 |
| 12 | Ole Miss | 17 |
| 14 | Florida State | 16 |
| 15 | Clemson | 15 |
| 16 | Wisconsin | 14 |
| 17 | Baylor | 13 |
| 18 | Kansas | 11.5 |
| 19 | Arizona State | 11 |
| 19 | Kentucky | 11 |
| 19 | Miss State | 11 |
| 22 | Louisville | 10.5 |
| 23 | Arizona | 10 |
| 23 | Kennesaw State | 10 |
| 23 | Princeton | 10 |
| 23 | South Florida | 10 |
| 23 | USC | 10 |
| 28 | Virginia | 9 |
| 29 | Drake | 8 |
| 29 | Fairleigh Dickinson | 8 |
| 29 | Oklahoma | 8 |
| 32 | Michigan State | 7 |
| 32 | NC State | 7 |
| 32 | North Carolina | 7 |
| 32 | Stanford | 7 |
| 32 | Texas A&M | 7 |
| 37 | Miami (Fla.) | 6 |
| 37 | Penn State | 6 |
| 37 | South Alabama | 6 |
| 37 | South Carolina | 6 |
| 41 | Houston | 5 |
| 41 | Ohio State | 5 |
| 41 | Syracuse | 5 |
| 44 | Indiana | 4 |
| 44 | Iowa | 4 |
| 46 | Auburn | 3 |
| 46 | Cincinnati | 3 |
| 48 | Butler | 2 |
| 48 | Eastern Michigan | 2 |
| 48 | LSU | 2 |
| 48 | Northern Colorado | 2 |
| 48 | Oregon | 2 |
| 53 | Illinois | 1 |
| 54 | Wichita State | 0.75 |
| 54 | Missouri | 0.75 |
| 54 | ULM | 0.75 |
| - | UT-Arlington | 0 |
| - | Villanova | 0 |
| - | Virginia Tech | 0 |
| - | Wake Forest | 0 |
| - | Youngstown St. | 0 |
| - | Air Force | 0 |
| - | Akron | 0 |
| - | California | 0 |
| - | Colorado | 0 |
| - | Connecticut | 0 |
| - | Cornell | 0 |
| - | Georgetown | 0 |
| - | Harvard | 0 |
| - | Indiana State | 0 |
| - | Iowa State | 0 |
| - | Liberty | 0 |
| - | Memphis | 0 |
| - | Michigan | 0 |
| - | Mid. Tenn. State | 0 |
| - | Montana State | 0 |
| - | New Mexico | 0 |
| - | Northwestern St. | 0 |
| - | Notre Dame | 0 |
| - | Purdue | 0 |
| - | Rice | 0 |
| - | Rutgers | 0 |
| - | SE Louisiana | 0 |
| - | Stephen F. Austin | 0 |
| - | TCU | 0 |
| - | UCLA | 0 |
-->
Latest News