Although running is one of the best forms of exercise you can do, if you do not invest in the right pair of shoes, you could get nasty blisters or cause more serious damage to your feet. But many people are not aware of what to look for in a pair of good running shoes.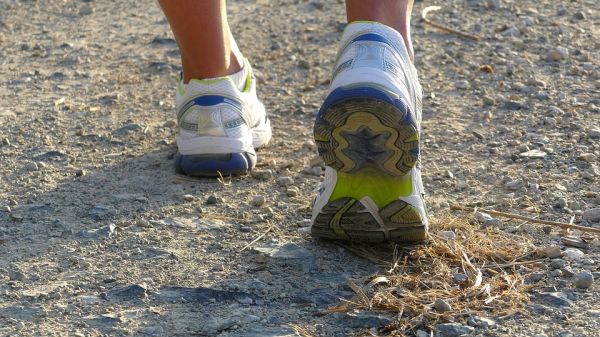 Make Sure There Is Enough Space for the Length of Your Toes
The upper front of a running shoe is called the toe box. Whether you are running a marathon or jogging for fun, when choosing running shoes, the toe box must give your foot enough room so that your toes do not touch the end. You should have about a thumbnail's length of space between your longest toe and the end of your shoe. That could mean selecting a shoe that is a half size or a full size larger than your everyday shoes. If you do not pick shoes with enough of a gap, your toes could rub on the end of the shoes, which is the last thing a runner needs.
Make Sure There Is Enough Space for the Width of Your Toes
Many people are aware that there should be a gap between your toes and the running shoe's end. But too many people do not think about the width of their toes and the shoe. If your toes are squished together, you could end up with a lot of discomfort. Compare the different wide toe running shoes available to ensure you pick the right pair for you. Some brands cater specifically for wide toe box running shoes, so it is important to choose shoes for the right foot type. One of the best brands is Altra.
Look for a Seamless Upper
A running shoe's upper is typically crafted from layers of fabric that are sewn and glued together. You should opt for a seamless upper, as seams can rub and cause blisters. The upper should also comfortably hug the top of your foot and not bind or chafe your foot anywhere. A smooth upper that is shaped like your foot is the ideal.
Look for a Padded Ankle Collar
When looking at the ankle collar of a running shoe, which is the wrap at the top that holds the heel down in place, make sure it is padded. When trying on the shoe, pay attention to whether your heel slips and how your heel interacts with your ankle bones. You also want to avoid ankle collars that irritate your Achilles tendon. So, find running shoes with ankle collars that perfectly fit your heel.
Other Factors to Consider
The above factors are some of the most important elements to look for when you buy a pair of running shoes, but there are others to consider. You should ensure the shoes:
Have the right arch, where it contours to the shape of your foot.
Hold your heel, which you can discover by jogging a little in the store before you purchase.
Feel firm, so that stress is minimized on your muscles.