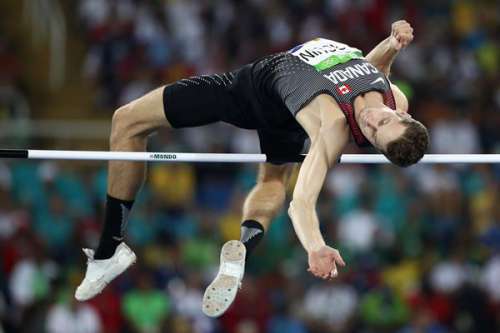 Reigning Olympic and World Champion Derek Drouin and Poland´s Sylvester Bednarek were tied for the win at the annual International high jump meet in Banska Bystrica, Slovakia on Wednesday, Feb 7.
In a packed indoor arena, both athletes cleared 2.33m and were tied for the win.  Bednarek, the 2009 world championships bronze medalist, in his 3rd competition this season managed to set a new personal best, while for Canadian Drouin Bankska Bystrica meet was the season opener. 
 In the women´s high jump contest Ukrainian athletes went 1-2 with Irina Herashechenko winning the event with a height of 1.93m and Yulia Levchenko taking second with 1.89m. Reigning Olympic champion Ruth Beitia concluded the podium with 1.89m. 
Women´s Elite
1 HERASCHENKO Iryna Ukraine 193 SB
2 LEVCHENKO Yulia Ukraine 189
3 BEITIA Ruth Spain 189
=4 TREASURE Alyxandria Canada 189 PB
=4 SKOOG Sofie Sweden 189 SB
=6 HRUBÁ Michaela Czech republic 189
=6 GREEN Emma Sweden 189
=8 AMATA Doreen Nigeria 189 SB
=8 SPENCER Levern Saint Lucia 189
10 MCPHERSON Inika        United States 185
=11 DUNAJSKÁ Tatiana Slovak Republic        180
=11 FURLANI Erika Italy 180
13 ZAVILINSKÁ Monika Slovak Republic 180
14 ŠIMIĆ Ana Croatia 180
Men´s Elite Results
=1 BEDNAREK Sylwester              Poland 233 WIL PB
=1 DROUIN Derek Canada 233 WIL SB
3 SELIVERSTAU Pavel Belarus 231 PB
4 THOMAS Donald Bahamas 231 SB
5 BEER Lukáš Slovakia        228 PB
6 RIVERA-MORALES Edgar Alejandro Mexico 228
7 KYNARD Erik United States 228
8 IVANOV Tihomir Bulgaria 228 PB
=9 ALLAMINE HAMDI Mohamat Qatar 220
=9 BUBENÍK Matúš Slovak Republic 220 SB
=9 CHESANI Silvano Italy 220
12 WILSON Jamal Bahamas 220