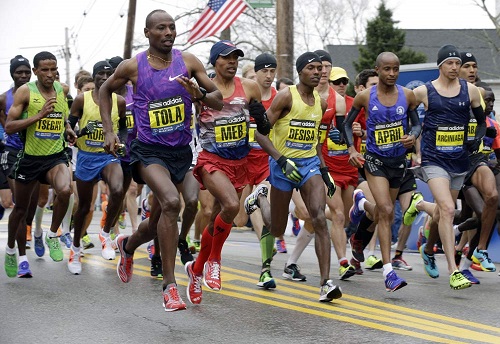 Tadesse Tola had victory within his grasp six years ago but had to settle for second place. This time the Ethiopian returns to the Mainova Frankfurt Marathon, determined to go one better and be the first runner across the line. Two more leading athletes are also competing on October 30 in Germany's oldest city marathon who have already enjoyed success beside the River Main: Lani Rutto of Kenya finished runner-up a year ago and Ethiopia's Mamitu Dask won the women's title in 2011. nk
The 35th edition of the Mainova Frankfurt Marathon is an IAAF Gold Label Race which is the highest category of road race. Entry for the race is still possible online at: www.frankfurt-marathon.com
Tadesse Tola went into the lead nine kilometres from the finish in the 2010 Frankfurt Marathon and could have been excused for thinking ahead to victory celebrations in the Festhalle. But there was one rival he couldn't shake off and that was Wilson Kipsang. The Kenyan, who went on to break the world marathon record in 2013, came through to win and break the course record with 2:04:57. Tadesse Tola finished second in a personal best of 2:06:31. Since then the 28-year-old has improved his best to a world class 2:04:49 when he finished third in Dubai in 2013. After difficult times in 2015, Tadesse Tola returned to form in preparation for the Mainova Frankfurt Marathon. At the end of July he won the Bogota Half Marathon in 65:16, an impressive performance taking into account the event featured a quality field and was held at high altitude.
Tola, who won a World Championships bronze medal in Moscow in 2013, will also face a high quality field in Frankfurt's Gold Label race. Mark Korir, winner of the Paris Marathon, was recruited to the field some time ago and the Kenyan with a best of 2:05:49 should make an impact while his compatriot Lani Rutto has now been added to the start list. Like Tola, the 27-year-old has finished runner-up in Frankfurt and has every incentive to improve on that position. In 2015 he ran his personal best of 2:06:34 to finish only eight seconds behind the winner Sisay Lemma of Ethiopia.
Another prominent name on the long distance scene is Moses Masai. Yet he has so far not been able to translate his talent for the track, where he won a 10,000m bronze medal at the World Championship in Berlin in 2009 after finishing fourth in the Olympics the previous year in Beijing, into success in the marathon. His best time remains, by the standards of his track performances, a relatively modest 2:10:36. The traditionally fast Frankfurt course offers the Kenyan another chance to fulfil his potential.
One of the early signings for the women's race, Peres Jepchirchir, remains a strong contender. Kenya's World Championship gold medallist is running her first serious marathon and will face among her rivals a runner with an impressive record in Frankfurt: Mamitu Daska won the race in 2011 in what remains her personal best of 2:21:59. In 2012 she finished third in 2:23:52 and was fourth a year later in 2:23:23. The impressive tally means that the 33-year-old's three fastest marathons were run in Frankfurt.
Likely rivals alongside Peres Jepchirchir and Mamitu Daska should include Fate Tola and Sarah Chebet. The Ethiopian-born Tola will be running her first marathon as a German citizen on October 30, having already run 2:25:14. The 28-year-old's change of citizenship was confirmed in June. Kenya's Sarah Chebet showed good marathon form in spring in winning the Enschede Marathon in the Netherlands with2:27:59.More Information and online entry is available at: www.frankfurt-marathon.com