• Kotut takes Paris Marathon Crown

Posted by:
Watch Athletics
Sunday, 03 April 2016
Kenya's rising road racing star Cybrian Kotut won his biggest race in his short running career as he won the Paris Marathon on Sunday, April 3.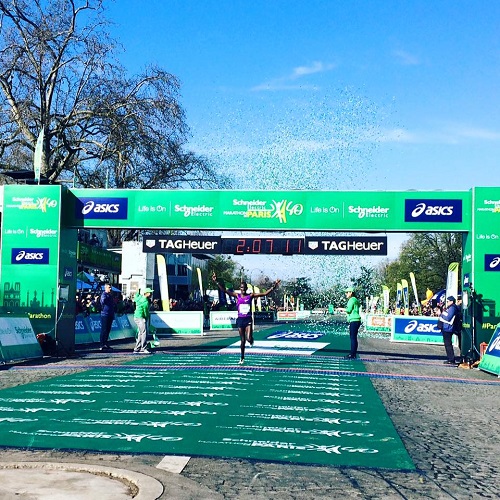 The 23-year-old Kenyan just after few weeks of winning the Paris Half marathon took the Paris Marathon title in 2:07:11.
Visiline Jepkesho completed Kenyan double after she won the women's marathon crown. The 28-year-old Jepkesho crossed the finish line in 2:25:52 beating Ethiopians Gulume Chala and Dinknesh Tefera into second and third respectively.
Top Results Men
| | | | | |
| --- | --- | --- | --- | --- |
| 1 | 02:07:11 | KOTUT | Cybrian | |
| 2 | 02:07:29 | KORIR | Laban | |
| 3 | 02:07:37 | CHEMLANY | Stephen | |
| 4 | 02:08:02 | KOGO | Micah | |
| 5 | 02:08:16 | ABRAHA | Gebretsadik | |
| 6 | 02:08:27 | LAGAT | Alfers | |
| 7 | 02:08:52 | ATANFU | Yatayal | |
| 8 | 02:09:28 | KANDA | Luka | |
| 9 | 02:11:30 | KOECH | Bernard | |
| 10 | 02:12:15 | KIPROTICH | Felix | |
Top Results Women
1
02:25:53
JEPKESHO
Visiline
2
02:26:14
CHALA
Gulume
3
02:28:12
TEFERA
Dinknesh
4
02:31:27
CHESIRE
Rebecca
5
02:32:05
MELESE
Yebrgual
6
02:32:43
OTSUBO
Mari
7
02:34:07
UTURA
Sule
8
02:34:07
KLEIN
Sarah
9
02:35:51
QUAGLIA
Emma
10
02:38:33
KOMU
Martha
11
02:38:34
VANDENBUSCHE
Hanna
12
02:43:00
GEZMU
Zenash
13
02:43:31
INO
Mitsuko