• Several world leads fall at Florida relays on FridayFriday

Posted by:
Watch Athletics
Saturday, 02 April 2016
Wesley Vazquez's 1:44.75 in 800m, Ahmed's Ali 20.16 in 200m and Eddie Lovett 12.39 in 100m hurdles were the top highlights on day 2 at Florida Relays.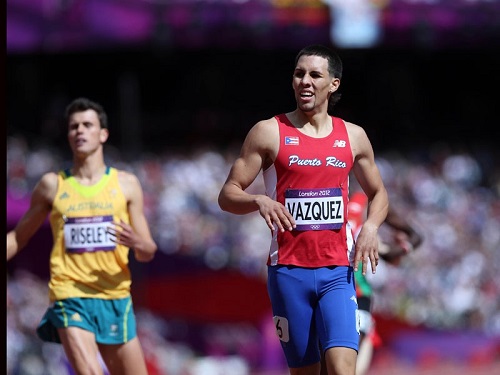 Puerto Rico's Wesley Vazquez dropped a new world lead of 1:44.75 in his season opener as he won the men's 800m on Day 2 at the 2016 Florida Relays. Another Puerto Rico runner Andress Arroyo, who competes for the University of Florida took second with a new collegiate leading time of 1:45.78. Isaiah Harris of Alabama also clocked a very decent time of 1:46.05 to take third.
There was world leading time i in the men's 110m hurdles as Virgin Island's Eddie Lovett took the win in 13.39 seconds just 0.02 seconds ahead of Jamaican Deuce Carter. USA's Jacquelyn Coward clocked 12.85 to win the women's 100m hurdles.
Another world lead fell and a new Sudanian record in the men's 200m race as University of Alabama sprinter Ahmed Ali clocked 20.16 seconds.
Chanelle Price, the former world indoor champion, in her season opener posted 2:01.72 to win women's 800m.
The men's 1500m saw some outstanding performances from Virginia's Henry Wynne and Mississippi's Craig Engels as they both dipped under 3:40. Wynne won the 1500m in collegiate leading time of 3:38.35, beating Engels into second place 3:38.82. Ashley Higginson won the women's 1500m in a new collegiate lead of 4:12.81.
In the men's 4x100m Andre de Grasse ran a stron anchor leg to win the race in a new world leading time of 38.18 seconds.