• Olympic medalist Turkish runner Abeylegesse banned for doping
Ethiopian born Turkish runner Elvan Abeylegesse have been banned by the IAAF for failing drugs test, the Turkish Athletics Federation announced on Thursday, March 31.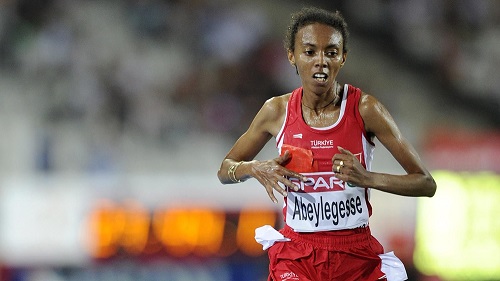 Turkish Athletics Federation have been overshadowed with another doping scandal after the IAAF banned on Thursday Elvan Abeylegesse for 2 years for doping related issues.
The IAAF found illegal substance in Abeylegesse's system after retesting her doping samples from the 2005 Helsinki and 2007 Osaka World Championships.
Abeylegesse will be stripped of her silver medal she took in the 5000m at the Osaka World Championships. Her results between 2005 and 2007 will be annulled annuled as well. In 2008 she won silver medals in 5000m and 10000m at the Beijing Olympics, however it is not clear if the athlete will loose her medals.
The athletes manager said they appealed the case in the Court of Arbitration of Sports as they believe that the IAAF testers have made technical errors.
It is the latest big doping scandal in Turkish athletics after the IAAF banned for doping the 2012 Olympic 1500m champion Asli Cakir Alptekin and silver medalistGamze Bulut. They both were stripped of their medals by the International Olympic Committee.