• 2015 Pan American Games drug cheat Gladys Tejeda returns with South American half marathon record

Posted by:
Watch Athletics
Tuesday, 29 March 2016
Peruvian Gladys Tejeda who cheated to win last year's Pan American marathon gold competed at the IAAF World half marathon championships in Cardiff last week.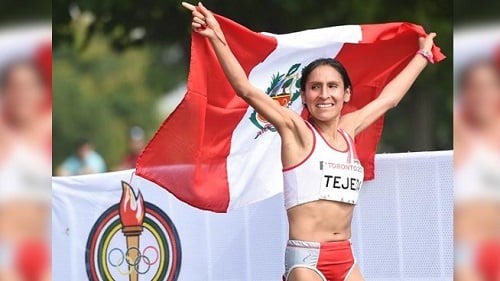 Last September Tejeda received a doping ban and was stripped of her marathon gold she won at Pan American games in Toronto in August.
The Pan American Sports Association (Odepa) said Tejeda's had tested positive at Pan American games for a masking agent furosemide (Hydrochlorothiazide). In other words furosemide is a prohibited substance which athletes use to cover up another banned supplement, drug or medicine.
Tejeda reported to Peruvian Olympic Committee she used the substance for health reasons, however she did not have any paper from official medics allowing her to use the substance as Therapeutic Use Exemption (TUE) for Pan American Games.
By the rules an athlete normally would get the standard 2-4 year ban, but the IAAF suspended Tejeda only for six months which expired on March 9, 2016.
Tejeda returned from her doping ban last weekend on March 26 at the IAAF World Half Marathon Championships in Cardiff where she placed in top 10 smashing the South American half marathon record. The Peruvian runner will participate at this year's Rio Olympics where she is qualified for the marathon event.