• Kamworor, Jepchirchir take world half marathon crowns

Posted by:
Watch Athletics
Saturday, 26 March 2016
Kenyans Geoffrey Kamworor and Karoki Peres Jepchirchir took the 2016 World Half Marathon titles under the rainy and windy weather conditions on Saturday in Cardiff, Great Britain.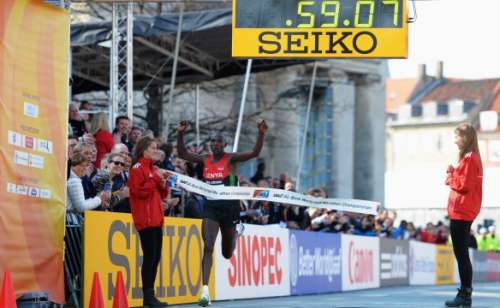 Kamworor managed to recover from a really bad fall to defend his world half marathon title with a time of 59:10 as his compatriot Bedan Karoki took silver. Kamworor became the third athlete in history to win 2 world half marathon title in a row.
"I was trying to get up, but people kept coming from behind, it was very difficult." Kamworor said.
"I said to myself after the start 'I am not going to give up'." He added
Double Olympic champion over 5000m and 10000m Mo Farah in sprint finish beat Ethiopia's Abayneh Ayele to grab bronze medal.
Here is video of men's race finish.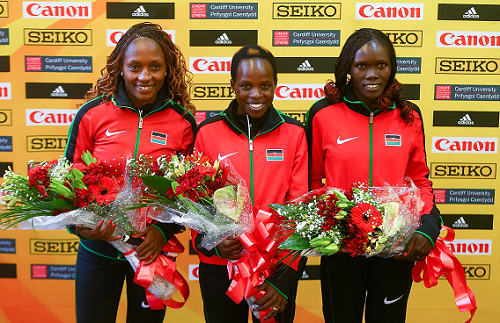 Kenyan women swept the podium as Peres Jepchirchir crossed the line first in 1:07:31. Cynthia Cherotich Limo clcoked 1:07:34 to take silver, while Mary Wacera Ngugi 1:07:54 took bronze.
Here is video of women's race finish.
Both Kenyan men's and women's teams won the World Half Marathon team titles beating Ethiopians into second place.
MEN'S TOP RESULTS
1. Geoffrey Kamworor (Kenya) 59:10
2. Bedan Karoki Muchiri (Kenya) 59:36
3. Mohamed Farah (Britain) 59:59
4. Abayneh Ayele (Ethiopia) 59:59
5. Tamirat Tola (Ethiopia) 1:00:06
6. Simon Cheprot (Kenya) 1:00:12
7. Abrar Osman (Eritrea) 1:00:58
8. Mule Wasihum (Ethiopia) 1:01:11
9. Edwin Kiprop Kiptoo (Kenya) 1:01:21
10. Stephen Mokoka (South Africa) 1:01:27
WOMEN'S TOP RESULTS
1. Peres Jepchirchir (Kenya) 1:07:31
2. Cynthia Cherotich Limo (Kenya) 1:07:34
3. Mary Wacera Ngugi (Kenya) 1:07:54
4. Netsanet Gudeta (Ethiopia) 1:08:01
5. Genet Yalew (Ethiopia) 1:08:15
6. Gladys Chesire Kiptagelai (Kenya) 1:08:46
7. Paskalia Chepkorir Kipkoech (Kenya) 1:09:44
8. Dehninet Demsew (Ethiopia) 1:10:13
9. Gladys Tejeda (Peru) 1:10:14
10. Yuka Ando (Japan) 1:10:34