• USA dominates final day at world indoors

Posted by:
Watch Athletics
Monday, 21 March 2016
The United States athletes dominated the final day of the IAAF World Indoor Championships in Portland by winning total of five events.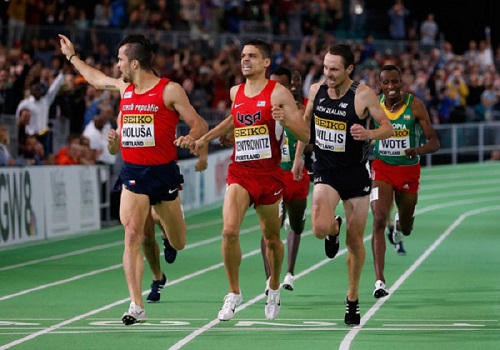 Americans won five golds in the women's high jump, men's 1500m, men's long jump and men's and women's 4x400m relays.
The 18-year-old high jumper Vashti Cunningham became the youngest female athlete ever to win gold at the world indoor championships. Cunningham in front of a sell-out crowd of 7191 at the Oregon Convention Centre in Portland cleared 1.96m to win the women's high jump contest.
The second gold for the Americans on final day came in the men's 1500m as Matthew Centrowitz outkicked everyone in the last stretch to cross the line first in 3:44:22. Jakub Holusa of Czech Republic was second just 0.08 seconds behind Centrowitz, while New Zealand's Nick Willis was third in 3:44:37. Video
Some moments later USA's long jumper Marquis Dendy was announced the world indoor champion after his 8.26 jump in the second round. Australia's Fabrice Lapierre set a new Australian indoor record of 8.25m to take silver, while Chinese jumper Changzhou Huan was third with a leap of 8.21m. Video
Both American men's and women's 4x400m relay teams concluded these championships with very dominant victories as American team competed their best ever showing in the world indoor championships. Men's relay Video, Women's relayVideo.
Americans won total of 14 golds, 6 silver and 4 bronze medals at these championships. Second place in the medal standings was Ethiopian team with 2 golds, 2 silver and 1 bronze medals, while French team was third with 1 gold, 1 silver and 2 bronze medals.
See full medal standings list here.
See world indoor championships event videos here.
Day 4 results