• 20 y/o Yulimar Rojas wins triple jump; becomes first ever global gold winner for Venezuela

Posted by:
Watch Athletics
Saturday, 19 March 2016
Venezuelan Yulimar Rojas won the first gold medal for her country as she took the IAAF World Athletics Indoor Championships triple jump crown on Saturday morning in Portland, Oregon.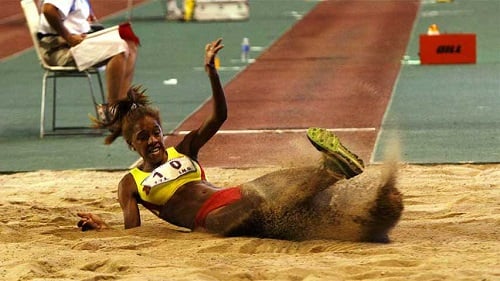 Yulimar Rojas made only one successful jump of 14.41m on her second attempt to take World Athletics Championships Indoor Gold. At age of 20 Rojas set another record by becaming the youngest athlete ever to win women's triple jump world title indoors or outdoors.
Silver medal and the first medal at these championships for Germany won the 25-year-old Kristin Gierich after she she leaped 14.30m in 5th round and moved to bronze position Greece jumper Paraskeví Papahristou 14.15m.
The world indoor championships will continue later today with many exciting finals.
Day 3 evening session events
M Triple Jump Final
M 60 Metres Hurdles Heats
W Shot Put Final
W 60 Metres Semi-Final
M High Jump Final
M 800 Metres Final
W 400 Metres Final
M 400 Metres Final
W 1500 Metres Final
M 1000 Metres Heptathlon
W 60 Metres Final
See full championships results here.
Women's Triple Jump Results
POS
ATHLETE
MARK
1
Yulimar ROJAS VEN
14.41
2
Kristin GIERISCH GER
14.30
3
ParaskevíPAPAHRÍSTOU GRE
14.15
4
Keturah ORJI USA
14.14
5
Elena PANTUROIU ROU
14.11
6
Kristiina MÄKELÄ FIN
14.07
7
Jeanine ASSANI ISSOUF FRA
14.07
8
Shanieka THOMAS JAM
13.95
9
Keila COSTA BRA
13.94
10
Christina EPPS USA
13.68
11
Ana PELETEIRO ESP
13.59
12
Carmen TOMA ROU
13.31
13
Iryna VASKOUSKAYA BLR
13.28
14
Sanna NYGÅRD FIN
13.21
Ayanna ALEXANDER TTO
NM