• 58 athletes to represent USA in Portland
USA Track and Field selected have 58 athletes to represent the country at this week's IAAF World Indoor Championships in Portland.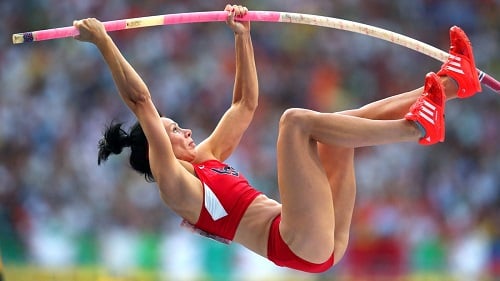 Pole vault world indoor record holder Jenn Suhr will lead the women's team, while decathlon and heptathlon world record holder Ashton Eaton will lead the USA's men's team.
Many USA's athletes have a potential to win several events or be on the podium at these championships as several of them are ranked on top at the world season lists.
Team USA for the 2016 IAAF World Indoor Championships - March 17-19
MEN
60m: Marvin Bracy, Trayvon Bromell, Mike Rodgers
400m: Kyle Clemons, Vernon Norwood
800m: Boris Berian, Erik Sowinski
1500m: Robby Andrews, Matthew Centrowitz
3000m: Paul Chelimo, Ryan Hill
60m hurdles: Spencer Adams, Jarret Eaton
High jump: Erik Kynard, Ricky Robertson
Pole vault: Mike Arnold, Sam Kendricks
Long jump: Marquis Dendy, Jeff Henderson
Triple jump: Chris Bernard, Omar Craddock, Alphonso Jordan
Shot put: Jonathan Jones, Kurt Roberts
Heptathlon: Curtis Beach, Ashton Eaton
4x400m: Elvyonn Bailey, Kyle Clemons, Patrick Feeney, Christopher Giesting, Vernon Norwood, Calvin Smith
WOMEN
60m: Tori Bowie, Barbara Pierre
400m: Quanera Hayes, Ashley Spencer
800m: Laura Roesler, Ajee Wilson
1500m: Brenda Martinez, Cory McGee
3000m: Abbey D'Agostino, Shannon Rowbury
60m hurdles: Nia Ali, Kendra Harrison, Brianna Rollins
High jump: Vashti Cunningham
Pole vault: Sandi Morris, Jenn Suhr
Long jump: Janay DeLoach, Brittney Reese
Triple jump: Christina Epps, Keturah Orji
Shot put: Jillian Camarena-Williams, Michelle Carter
Pentathlon: Barbara Nwaba, Kendell Williams
4x400m: Kendra Chambers, Phyllis Francis, Natasha Hastings, Quanera Hayes, Courtney Okolo, Ashley Spencer