• Multi event entries and 4x400m teams released for the Portland World Indoor Championships
The IAAF posted on its website the accepted entries in the men's Heptathlon, women's pentathlon and 4x400m relay teams for the IAAF World Indoor Championships Portland 2016.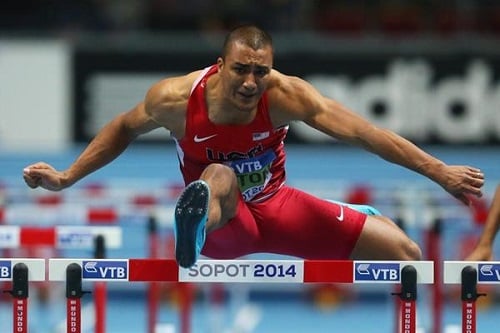 In the combined events American Ashton Eaton, the Olympic and world champion, will lead the men's heptathlon field, while world championships silver medalist Brianne Theisen-Eaton of Canada will lead the women's pentathlon. Ashton Eaton has won the two previous world indoor championships, meanwhile Brianne will try to get her first global title next week in Portland.
The IAAF World Indoor Championships Portland 2016 is scheduled for March 17-20.
Heptathlon

Pentathlon

Men's 4x400

Women's 4x400

Curtis Beach (USA)
Larbi Bourrada (ALG)
Mathias Brugger (GER)
Ashton Eaton (USA)
Kurt Felix (GRN)
Adam Sebastian Helcelet (CZE)
Oleksiy Kasyanov (UKR)
Jeremy Lelievre (FRA)
Tim Nowak (GER)
Petter Olson (SWE)
Samuel Remedios (POR)
Jorge Urena (ESP)
Makeba Alcide (LCA)
Katerina Cachova (CZE)
Georgia Ellenwood (CAN)
Alina Fodorova (UKR)
Morgan Lake (GBR)
Celina Leffler (GER)
Anastasiya Mokhnyuk (UKR)
Barbara Nwaba (USA)
Salcia Slack (JAM)
Brianne Theisen-Eaton (CAN)
Kendell Williams (USA)
Gyorgyi Zsivoczky-Farkas (HUN)
Bahamas
Belgium
Guyana
Jamaica
Nigeria
South Africa
Trinidad and Tobago
United States
JamaicaNigeria
Poland
Romania
Ukraine
United States