• Rudisha wins 800m in Melbourne

Posted by:
Watch Athletics
Saturday, 05 March 2016
Defending Olympic 800m champion David Rudisha kicked off his 2016 campaign with a win over 800m at the IAAF World Challenge meet in Melbourne.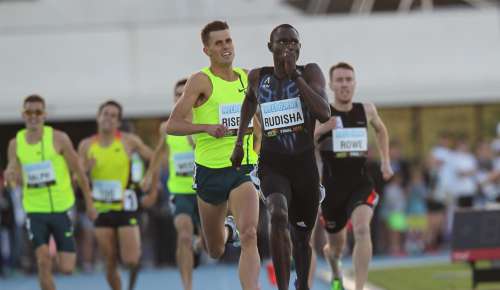 Rudisha in his first race this season clocked 1:44.78 beating Australia's Mat Luke, who crossed the line in a new personal best time of 1:45.16. Luke also hit the Rio Olympics qualifying standard and will possibly represent Australia in Rio Olympics.
Men 800m Results - See Full Results Here.

Finals
  1 Rudisha, David               Ken                    1:44.78
  2 Mathews, Luke                Aus                    1:45.16Q
  3 Gurr, James                  Aus                    1:46.09
  4 Ralph, Joshua                Aus                    1:47.30
  5 Rowe, Alex                   Aus                    1:47.48
  6 Stenson, Dylan               Aus                    1:47.75
  7 Yokota, Masato               Jpn                    1:47.81
  8 Bol, Peter                   Aus                    1:49.22
 -- Ruben (pace), Harrison       Aus                        DNF