• Tokyo Marathon Men's and Women's Elite Field

Posted by:
Watch Athletics
Monday, 22 February 2016
The 2016 Tokyo Marathon will be held on Sunday, February 28.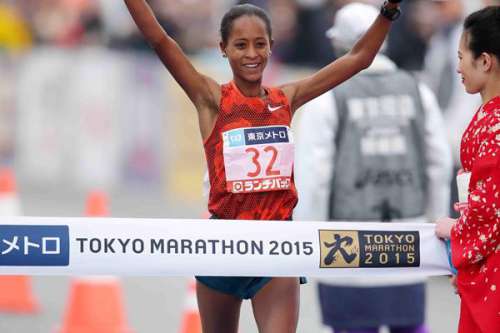 Olympic marathon champion Stephen Kiprotich of Uganda and Kenyan's the 2014 winner and course record holder Dickson Chumba and Emmanuel Mutai (PB 2:03:13) will lead a very strong men's field.
The women's elite field will be led by Edna Kiplagat (KEN) the 2014 London marathon winner and past Tokyo marathon winners Birhane Dibaba and Aberu Kebede both from Ethiopia.
The event will broadcast live on Sunday. For times in different parts of the world visit page here.
Emmanuel Mutai (Kenya) - 2:03:13 (Berlin 2014)
Dickson Chumba (Kenya) - 2:04:32 (Chicago 2014)
Eliud Kiptanui (Kenya) - 2:05:21 (Berlin 2015)
Bernard Kipyego (Kenya) - 2:06:19 (Amsterdam 2015)
Stephen Kiprotich (Uganda) - 2:06:33 (Tokyo 2015)
Feyisa Lilesa (Ethiopia) - 2:06:35 (Dubai 2015)
Masato Imai (Japan) - 2:07:39 (Tokyo 2015)
Kohei Matsumura (Japan) - 2:08:09 (Tokyo 2014)
Samuel Ndungu (Kenya) - 2:08:21 (Lisbon 2014)
Abel Kirui (Kenya) - 2:09:04 (Tokyo 2014)
Hiroaki Sano (Japan) - 2:09:12 (Tokyo 2015)
Benjamin Ngandu (Kenya) - 2:09:18 (Tokyo 2015)
Koji Gokaya (Japan) - 2:09:21 (Tokyo 2015)
Javier Guerra (Spain) - 2:09:33 (London 2015)
Women
Edna Kiplagat (Kenya) - 2:20:21 (London 2014)
Aberu Kebede (Ethiopia) - 2:20:48 (Berlin 2015)
Shure Demise (Ethiopia) - 2:20:59 (Dubai 2015)
Birhane Dibaba (Ethiopia) - 2:22:30 (Tokyo 2014)
Amane Gobena (Ethiopia) - 2:23:29 (Paris 2015)
Ashete Bekele Dido (Ethiopia) - 2:23:43 (Dubai 2015)
Helah Kiprop (Kenya) - 2:24:03 (Tokyo 2015)
Isabellah Andersson (Sweden) - 2:26:05 (Dubai 2013)
Maja Neuenschwander (Switzerland) - 2:26:49 (Berlin 2015)
Hiroko Yoshitomi (Japan) - 2:31:28 (Tokyo 2013)
Winfridah Kebaso (Kenya) - 2:32:08 (Saitama 2015)
Yukiko Okuno (Japan) - 2:32:41 (Osaka 2015)
Tokyo Marathon Past winners
| Year | Men's winner | Country | Time | Women's winner | Country | Time |
| --- | --- | --- | --- | --- | --- | --- |
| 2015 | Endeshaw Negesse | Ethiopia | 2:06:00 | Birhane Dibaba | Ethiopia | 2:23:15 |
| 2014 | Dickson Chumba | Kenya | 2:05:42CR | Tirfi Tsegaye | Ethiopia | 2:22:23CR |
| 2013 | Dennis Kimetto | Kenya | 2:06:50 | Aberu Kebede | Ethiopia | 2:25:34 |
| 2012 | Michael Kipyego | Kenya | 2:07:37 | Atsede Habtamu | Ethiopia | 2:25:28 |
| 2011 | Hailu Mekonnen | Ethiopia | 2:07:35 | Noriko Higuchi [6] | Japan | 2:28:49 |
| 2010 | Masakazu Fujiwara | Japan | 2:12:19 | Alevtina Biktimirova | Russia | 2:34:39 |
| 2009 | Salim Kipsang | Kenya | 2:10:27 | Mizuho Nasukawa | Japan | 2:25:38 |
| 2008 | Viktor Röthlin | Switzerland | 2:07:23 | Claudia Dreher | Germany | 2:35:35 |
| 2007 | Daniel Njenga | Kenya | 2:09:45 | Hitomi Niiya | Japan | 2:31:02 |