• Dibaba can run 3:47-3:48 says coach; she ran 4x1500m (4:06, 4:04, 4:03, 4:02) in training before Worlds
World 1500m champion Ethiopia's super-star Genzebe Dibaba's coach Jama Aden says that she is ready to run faster as she is preparing to break more world records and win Olypics in 2016.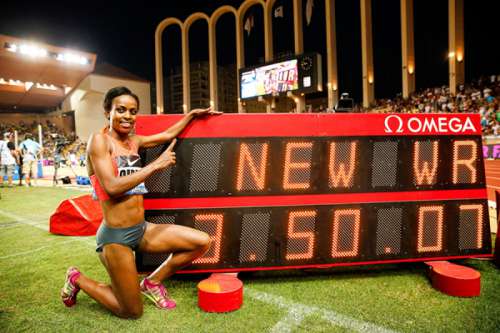 Dibaba shocked the world last year when she set a new world 1500m record of 3:50.07 at the Diamond league meet in Monaco last July. Dibaba broke a 22-year-old world record of 3:50.46 set by Qu Yunxia of China set in September 1993.
"The pacemaker in Monaco [Chanelle Price] did a really good job, but the second lap was 64, so if we had that at 62 it changes. She was in 3:47, 3:48 shape; she could have run two seconds faster," Aden told AthleticsWeekly.com . "She's young, she has the time.
"This year we haven't done speed and she's running faster, so the key has been keeping up mileage and doing good repeats. You will have seen the workout, 6x800m, but [how it was reported] was not exactly how she did it. She did six: 2:04, 2:03, 2:04, 2:03, 2:02, 1:58." He said.
As well Aden revealed times for 4x1500m workout leading up to the Beijing world championships where she won the 1500m gold and later won bronze in 5000m.
"There was another workout, the last one before going to Beijing: 4x1500m in 4:06, 4:04, 4:03, 4:02 with 4-5 minutes of recovery. She trains with guys who are running 3:40, 3:42. Many people question how can she run 3:50. I say that's not the point; she can run faster."
This year I think she should try some of the tough distance records – 3000-meters in 8:06. I think she can do that." he added