• Farah targets world half marathon gold in Cardif
» Friday, 22 January 2016

Article source:
Double Olympic champion over 5000m and 10,000m Mo Farah says he is open for the selection to the British team for the IAAF/Cardiff University World Half Marathon Championships Cardiff 2016 on March 26.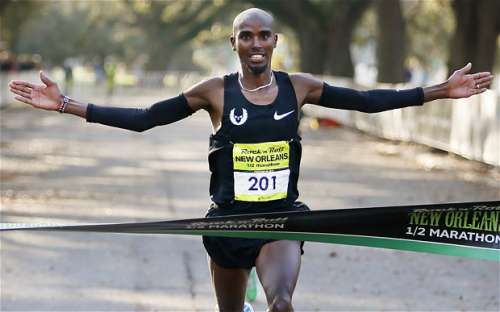 Mo Farah plans to win another global gold at the Cardiff World Half Marathon Championships, as the Briton continues to prepare to defend his 5000m and 10,000m olympic titles in Rio in August.
"I've never run at the World Half Marathon Championships before, and I know the standard is incredibly high with athletes who really target and train specifically for the event, so I know it will be a hard race," said the five-time world champion.
"It will be a good chance to try to claim another world title and I know that the British fans will be out in force. I always get amazing support whenever I race in the UK and I hope this will help me along the way."
Two weeks ago in his first race of the 2016 season Farah competed at the Great Edinburgh XC and was beaten by USA's Garrett Heath over the 8km course.
"My primary aim for 2016 is the Olympic Games in Rio in August but this race will be a good way to build my endurance before I return to the track in the summer. I hear the course in Cardiff is very fast and it may take a personal best to win the race but I'm up for the challenge." he said.
The IAAF Half Marathon Championships are being hosted on British soil for the first time since 2009.