• Bolt voted Best Athlete of 2015
World record holder in 100m and 200m Usain Bolt has been voted AIPS Best Male Athlete for 2015.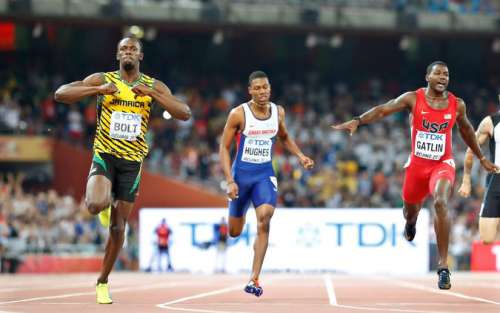 At the Beijing world championshipsBolt managed to retain his 100m and 200m titles. The 11-time world champion also won the 4x100m relay gold together with his Jamaican teammates.
At the Best Athlete poll by International Sports Press Association (AIPS) Bolt received a total of 804 votes beating tennis superstar Novak Djokovic who got 774 votes. FC Barcelona player Lionel Messi was third in the poll with 380 votes.
"I am always happy when my hard work is recognised, and so I am pleased to have received these awards. It's also pleasing to have come out on top over so many other global sporting superstars," said Bolt
In the women's poll word record holder and champion over 1500m Genzebe Dibaba has been voted second with 362 points. US tennis star Serena Williams won the (AIPS) sportswoman of the year award by receiving 664 votes. Dutch sprinter Dafne Schippers, who took gold in the 200ma and silver in 100m in Beijing was voted third with 283 votes.
The overall winner of the Best Press Facility Award was the IAAF World Championships in Beijing.
AIPS members from the following nations participated in the 2015 poll:
Albania, Algeria, Argentina, Australia, Austria, Belarus, Belgium, Bolivia, Brazil, Bulgaria, Burundi, Cameroon, Canada, China, Colombia, Croatia, Cuba, Cyprus, Czech Republic, Denmark, Ethiopia, France, Gambia, Georgia, Germany, Ghana, Great Britain, Greece, Guadeloupe, Guatemala, Hong Kong, Hungary, India, Iran, Ireland, Israel, Italy, Japan, Kazakhstan, Kenya, Latvia, Liechtenstein, Lithuania, Luxembourg, Malaysia, Mauritania, Moldova, Mongolia, Morocco, Netherlands, Nicaragua, Nigeria, Norway, Pakistan, Panama, Paraguay, Poland, Portugal, Puerto Rico, Qatar, Romania, Russia, San Marino, Senegal, Serbia, Sierra Leone, Singapore, Slovak Republic, Slovenia, Spain, Suriname, Sweden, Switzerland, Togo, Tunisia, Turkey, Ukraine, Uruguay, USA, Venezuela