• 2012 winner Abshero returns to the Dubai Marathon
The 2012 winner and the course record holder Ethiopia's Ayele Abshero will return to the 2016 Dubai marathon on January 22.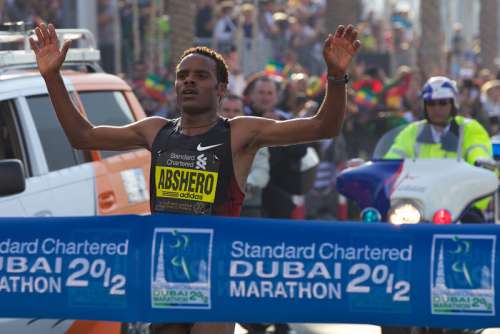 Four years ago Abshero shocked the world by setting Dubai marathon record with a striking time of 2:04.23. Abshero not only set a new course record, but also clocked the fastest marathon debut in history.
"Ayele's victory and course record was a highlight in what was an amazing year for the Dubai Marathon in 2012. Never before in marathon history had more than three men broken 2:05 on a legal course yet that year four men broke that mark here in Dubai. We bettered that in 2013 when five men ran sub-2:05 but Ayele's race – and the fastest marathon debut ever – are certainly among the race's historical highlights." said Dubai marathon Director Peter Connerton.
Alongside with other world class marathoners, the 25-year-old Abshero will face the two-time London Marathon champion and 2012-2013 World Marathon Majors winner Tsegaye Kebede of Kenya.
The 2016 Dubai marathon is scheduled for January 22 at 6:30am local time. The event will be streamed live worldwide via Dubai marathon official website.