• Gebrselassie ends career in Addis Ababa
History's one of the greatest distance runners of all time Haile Gebrselassie of Ethiopia put an end to his long career as professional athlete at the 2015 Great Ethiopian Run 10km in Addis Ababa, Ethiopia on Sunday, November 22.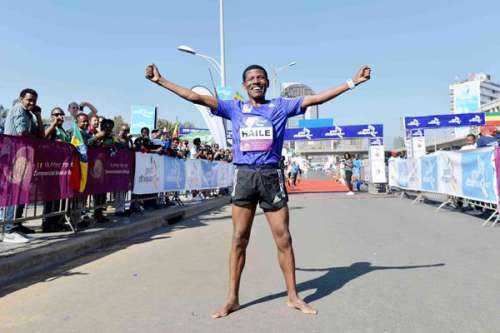 Gebreslassie first gave start to his farewell race - the Great Ethiopian Run - and then joined the 10K race. Total of 40,000 running enthusiasts from Ethiopia and other parts of the world took part at this year's Great Ethiopian Run.
After the race Gebrselassie gave awards to the race winners and best Ethiopian athletes such as Tirunesh Dibaba, Sileshi Sihine and Genzebe Dibaba, who also took part in this event.
"This year is a very special year and it's not because I ran," Gebrselassie said. "For the last two years we were not in Meskel Square because of construction. Three years ago many participants walked here. Today, because of the new light rail train many people came on the train. That is different." Gebrselassie said after the race.
"It's amazing I am so happy. Plus, thanks to the government for allowing us to return to this square. They stopped hosting any events in this square only making an exception for the Great Ethiopian Run."
"I saw (the ministers) only at the beginning," he revealed. "I had to move and run fast. Still not fast enough: 33 minutes. The problem was I should have started with the elite athletes to at least run 30 or 31 minutes. I started behind the group. I had to move; especially the first 3k I did a lot of what you call zig zag," Gebrselassie joked.
The Great Ethiopian Run (10KM) was won by Tamirat Tola (ETH), who crossed the finish line in 28:44. Tola's teammate Bonsa Dida took second place with a time of 28:50, while Adugna Takele crossed the line third in 28:55.
Women's race was by Mamitu Daska, who clocked 32:16. Second and third place took Yebegrual Meles (33:10) and Sule Utura (33:44).