• Kipsang & Keitany to Defend NYC Titles

Posted by:
Watch Athletics
Tuesday, 27 October 2015
Kenyan duo Wilson Kipsang and Mary Keitany will retunrn on November 1 to New York City to defend their last year's marathon titles.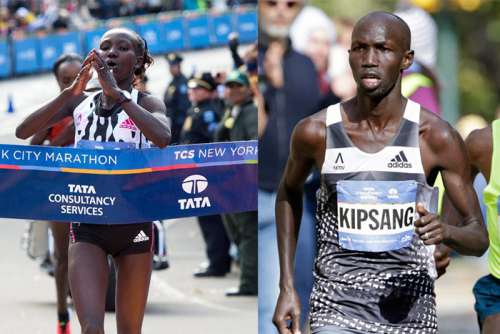 Image source: 3news.co.nz

Former world marathon record holder Wilson Kipsang will be the favorite to win the NYC marathon on Sunday.
"My training has been going on very well, and I hope to run a good race in New York,"
"I hope the weather will be more favourable than in Beijing, where the conditions were too hot and humid for my liking. I like running in New York City...I think the roads suit me very well." Kipsang told AFP.
The 33-year-old Kipsang will be challenged by a strong Ethiopian team of Lelisa Desisa the NYC 2014 runner-up and winner of this year's Boston Marathon and the 2014 NYCM third-place finisher Gebre Gebremariam. Another top class Ethiopian is Yemane Tsegaye the 2012 Rotterdam champion with a PB of 2:04:47. Kipsang' s country man the IAAF World Championships 10,000-meter silver-medalist and world cross country champion Geoffrey Kamworor has also potential for a high finish.
In the women's race, defending champion Mary Keitany will face a high class class field that includes this year's London marathon winner Tigist Tufa (ETH), who beat her into second place in the British capital last April and Aselefech Mergia (ETH), the defending Dubai Marathon champion. In 2012 Aselefech Mergia became the 8th fastest marathoner in history by winning the Dubai Marathon in 2012 in a personal best time of 2:19:3.
"I know the race in New York will be very competitive but I will go there to do my best to retain my title," said Keitany on Monday before departing for NYC.
"I hope I will not make the same mistake -- to break away early, which I tried in 2011 and paid the price at the end. The solution is to stick with the leading pack to the end." She added.
Other athletes expected to be in the are Kenyans Caroline Rotich the Boston champion, Priscah Jeptoo the 2013 New York City Marathon champion and Ethiopian Buzunesh Deba who finished third at the 2015 Boston Marathon.
Lists of Men's Elite Athletes
| | |
| --- | --- |
| Name | Marathon Personal Best |
| Wilson Kipsang, KEN | 2:03:23 |
| Lelisa Desisa, ETH | 2:04:45 |
| Yemane Tsegaye, ETH | 2:04:47 |
| Gebre Gebremariam, ETH | 2:04:53 |
| Stanley Biwott, KEN | 2:04:55 |
| Geoffrey Kamworor, KEN | 2:06:12 |
| Yuki Kawauchi, JPN | 2:08:14 |
| Meb Keflezighi, USA | 2:08:37 |
| Daniele Meucci, ITA | 2:11:08 |
| Nick Arciniaga, USA | 2:11:30 |
Lists of Women's Elite Athletes
| | |
| --- | --- |
| Professional Women | Marathon Personal Best |
| Mary Keitany, KEN | 2:18:37 |
| Aselefech Mergia, ETH | 2:19:31 |
| Buzunesh Deba, ETH | 2:19:59 |
| Priscah Jeptoo, KEN | 2:20:14 |
| Tigist Tufa, ETH | 2:21:52 |
| Jelena Prokopcuka, LAT | 2:22:56 |
| Caroline Rotich, KEN | 2:23:22 |
| Helah Kiprop, KEN | 2:24:03 |
| Christelle Daunay, FRA | 2:24:42 |
| Sara Moreira, POR | 2:24:49 |
| Ana Dulce Felix, POR | 2:25:15 |
| Anna Incerti, ITA | 2:25:32 |